Montana Woman Charged with Child Endangerment for Taking Drugs While 12 Weeks Pregnant
Friday, September 05, 2014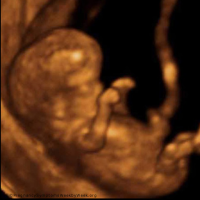 Ultrasound of fetus at 12 weeks (photo: pregnancysymptomsweekbyweek.org)
Authorities in Montana have charged a woman with felony child endangerment for taking illegal drugs even though she was only 12 weeks pregnant when she did so.
Casey Gloria Allen, 21, from the town of Hamilton was charged after a drug test revealed the presence of THC, opiates and benzodiazapines, which is used in anti-anxiety medications.
Allen has been charged in three separate felony cases since last September, according to the Ravalli Republic. Her previous run-ins with the law involved felony theft and felony criminal possession of methamphetamines, obstructing justice and felony possession of opiates and hash oil. A judge set bail at $100,000 and ordered Allen to undergo more drug testing if released.
Robin Marty at Care2 wrote that the Allen case is not unique, saying "filing additional charges against pregnant women who use drugs has become a growing trend across the nation."
"But as women are being charged earlier and earlier in pregnancy, advocates are beginning to ask where exactly are police getting the information to file their charges and how can these new pregnancy-based crimes effect whether a person decides to carry to term or not?" she added.
Montana activists Lynsey Bourke and Emily Likins expressed concern that the reporting of a patient's medical information could deter women from seeking health care. "How did the court system know she was pregnant?" they said in a press release. "Dating a pregnancy is very specific, so Allen either told them, the state dated the pregnancy for her, or her doctor reported her to the department of health and human services. If we want pregnant women to obtain prenatal care and drug-treatment therapies, they have to trust that a trip to the doctor won't end with the police at her doorstep."
The American Medical Association reportedly opposes prosecuting pregnant women who use drugs for this very reason.
"The reality for some of these women is the need for drugs is stronger than any maternal instinct they have," Ravalli County deputy attorney Thorin Geist told the Ravalli Republic.
"The most important question may be how early into a pregnancy police are willing to charge a person for not adhering to her 'maternal instincts,' as Deputy Attorney Geist so eloquently put it," wrote Marty. "If the police are now in charge of enforcing 'maternal instinct,' there are going to be a lot of people filling up our jails."
Fetal harm laws are currently on the books in 36 states. While the intent of such laws is to bring additional criminal charges against those who harm pregnant women, they are increasingly being used to prosecute the woman herself. And some observers believe this has become a tool of anti-abortion activists.
"There is some evidence that abortion opponents have been pursuing fetal homicide laws because they hope it will undermine abortion rights. It seems to be part of their overall strategy," Elizabeth Nash, the states policy manager for the Guttmacher Institute, told ThinkProgress.
- Danny Biederman, Noel Brinkerhoff
To Learn More:
Pregnant Hamilton Woman Charged with Endangering Baby (by Perry Backus, Ravalli Republic)
Montana Charges Woman with "Criminal Endangerment" at Just 12 Weeks Pregnant (by Robin Marty, Care2)
Woman Who Is Just 12 Weeks Pregnant Charged with Child Endangerment (by Tara Culp-Ressler, Think Progress)
Charged with Murder for Taking Cocaine or Trying Suicide While Pregnant (by Noel Brinkerhoff, AllGov)