Minorities and Unemployed Wait the Longest and Travel the Farthest for Health Care
Thursday, October 08, 2015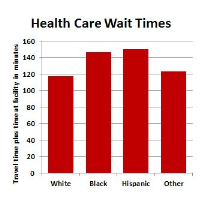 (graphic: Steve Straehley, AllGov)
The time it takes to reach and receive health care services in the U.S. is longer for the unemployed and minorities than others, according to a new study.
Using data from 4,000 people collected from 2005 to 2013, researchers at the University of Pittsburgh determined patients on average spent 86 minutes in a clinic and 38 minutes getting to one.
They found that patients with less education, who were unemployed and who were black, Hispanic or another minority tended to have longer wait times. Hispanic patients, for example, spent 105 minutes at a clinic, while white patients spent an average of 80 minutes. When it came to travel time, black patients spent an average of 45 minutes, while white patients traveled an average of 36 minutes getting to a clinic.
"Unfortunately, there are so many disparities in healthcare access and health outcomes already identified in our healthcare system that I don't think these results are necessarily surprising," said Dr. Kristin N. Ray of the University of Pittsburgh School of Medicine, who worked on the study.
"Instead, I think these results add another dimension to the many inequalities in our healthcare system, and document a very real additional burden for patients," Ray told Reuters Health.
Longer travel times for minority patients are a result of health care practitioners not locating their offices in areas with high non-white populations, among other things.
-Noel Brinkerhoff, Steve Straehley
To Learn More:
Race and Employment Tied to U.S. Clinic Wait Times (by Kathryn Doyle, Reuters)
Patient Waiting Times Hit the Poor, Unemployed, and People of Color the Worst (by Sam P.K. Collins, ThinkProgress)
Disparities in Time Spent Seeking Medical Care in the United States (by Kristin N. Ray, MD; Amalavoyal V. Chari, PhD; John Engberg, PhD; Marnie Bertolet, PhD; Ateev Mehrotra, MD, MPH; Journal of the American Medical Association)
The State Still Doesn't Know How Many Doctors Take Medi-Cal Patients, but It's Not Enough (by Ken Broder, AllGov California)