Maui Votes to Halt Genetically Modified Crop Cultivation; Monsanto and Dow Sue
Sunday, November 16, 2014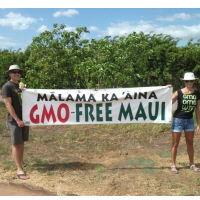 (photo: Nation of Change)
Seed companies Monsanto and Dow spent $8 million to try to defeat a proposal that would ban cultivation of genetically modified organisms in Maui County, Hawaii, in this month's general election. The initiative passed anyway and now the seed companies are suing to prevent its enforcement.
Monsanto and Dow unit Mycogen Seeds use acreage on the islands of Maui and Molokai, both part of Maui County, to research and develop new strains of genetically modified corn. They, along with local businesses, filed a federal suit Thursday in Honolulu to enjoin enforcement of the law and to declare it invalid.
Monsanto and Dow say they employ more than 400 people on their farms and that a ban on growing genetically modified crops there would hurt the islands' economy.
The plaintiffs might have the judge on their side. The suit will be heard by Magistrate Judge Barry Kurren, who this year declared invalid a Kauai County law regulating genetically modified crops, ruling it was superseded by state law. The case is now before a federal appeals court.
Those behind the initiative, including the nonprofit SHAKA Movement, filed a suit of their own on Wednesday, this one in state court, to ensure that the law is enforced.
"Plaintiffs bring this action seeking declaratory relief against Defendants in order to (1) assure that the GMO Bill is timely and properly implemented and to be able to assist and participate in the County's implementation of the GMO Bill, including being consulted by the County with respect to the GMO Bill's implementation; and (2) resolve the claims that the GMO bill is not legal and enforceable, as there is an actual controversy and threat of imminent and inevitable litigation regarding this issue," according to the suit.
About 90% of the corn grown in the United States is genetically engineered and at least partly developed in Hawaii, according to Audrey McAvoy of the AP.
-Steve Straehley
To Learn More:
Monsanto, Dow Unit Sue Maui County Over GMO Law (by Audrey McAvoy, Associated Press)
Monsanto Sues to Reverse Hawaii Vote Banning Genetically Engineered Crops (by Jonathan Hargraves, Courthouse News Service)
Monsanto, Agrigenetics Sue to Invalidate Maui County GMO Farming Ban (by Anita Hofschneider, Honolulu Civil Beat)
Monsanto, Maui County Sued Over GMO Farming Moratorium (by Anita Hofschneider, Honolulu Civil Beat)
Pesticide Companies Use Clever Loophole to Avoid Regulation of Genetically Modified Grass (by Noel Brinkerhoff, AllGov)