Long-Awaited Testosterone Treatment Study Offers No Good News for Aging Males
Thursday, February 18, 2016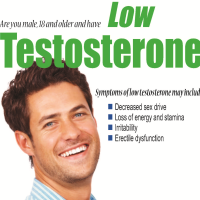 (graphic: High Point Clinical Trials Center)
By Gina Kolata, New York Times
More than 1 million men have smeared testosterone gels on their bodies in recent years, hoping it will rejuvenate them, energize them, and increase their libido. But until now, there has never been a rigorous study asking if there were any real benefits to testosterone therapy for healthy men with so-called "low T."
The first results of such research were published Wednesday in The New England Journal of Medicine. Although it found at best modest benefits, mostly in sexual functioning, it is a landmark study, said Dr. Eric S. Orwoll, a professor of medicine at Oregon Health and Science University, because it provides the first credible data on testosterone's effects on some of the problems it is thought to resolve.
Some doctors said they hoped the modest results might bring some sanity to the testosterone frenzy of recent years. "Frankly," said Dr. Sundeep Khosla, a dean at the Mayo Clinic College of Medicine, "there is a lot of abuse."
The study, led by the Perelman School of Medicine at the University of Pennsylvania and funded by the National Institutes of Health and AbbVie, the maker of the testosterone gel AndroGel, involved 790 men 65 and older with low testosterone levels for their age.
Testosterone levels normally fall as men age, but these men had levels on the low end — below 275 nanograms per deciliter of blood. Some of the men said they had lost their sexual drive, others said they were walking much slower than they used to, and others said they just felt as if they had lost their zest for life. The men were randomly assigned to use AndroGel or a placebo for a year.
Men who had said their sexual functioning had been flagging reported moderate increases in their interest in sex and in their performance, although when it came to erections, a drug like Viagra or Cialis would be more effective, the researchers reported.
Those who said they felt blue reported a small improvement in mood. But the drug had no discernible effect on vitality or walking speed in men with those complaints.
To Learn More:
Why has FDA Approved 26 Sex Improvement Drugs for Men, but None for Women? (by Noel Brinkerhoff and Danny Biederman, AllGov)
Latest Condition Invented by Drug Companies…Low Testosterone (by Matt Bewig, AllGov)