Limited Roles for Women and Minorities in Top-Grossing Movies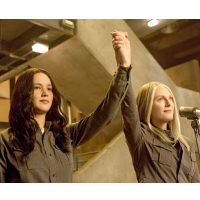 Jennifer Lawrence and Julianne Moore in The Hunger Games: Mockingjay-Part 1
Most of 2014's top movies were fantasies—at least in the frequency and the way they portrayed women and minorities.
The University of Southern California's Annenberg School of Communications took its annual look at how minorities, women and the LGBT community are portrayed in film and found that Hollywood has a skewed view of society. Among the findings of the study of 2014's 100 top films:
--Females 13 to 20 were as likely as those 21 to 39 to be shown in "sexy attire."
--No women over 45 were portrayed in a lead role.
--Seventeen had no black speaking characters and more than 40 had no Asian speaking roles.
--Out of 4,610 speaking characters, only 10 were gay, 4 were lesbian and 86 of the top 100 had no LGBT characters at all.
"When I was analyzing the data, the conclusion I came to was: We really have an epidemic of invisibility going on. It's not just with females or people of color. It's also with the LGBT community on-screen," Stacy L. Smith, an author of the study, told Jessica Goldstein of ThinkProgress.
The researchers say the movies are not giving an accurate view of the United States. "Every person deserves the opportunity to be seen and heard and have their story told," study co-author Katherine Pieper said. Whether or not you, personally, ever attend a movie again in your life, "there still needs to be a place for people who look like the population of the United States on screen. That means women, that means people of color, that means the LGBT community. They're incredibly marginalized in the stories that are created, that are based, really, on imagination. By leaving them out of these stories, they're not in our imagination, which is a problem."
The relegation of women and minorities is happening behind the camera too. For instance, only 1.9% of the top 100 films of 2013 and 2014 were directed by women and 11.2% were written by women. The American Civil Liberties Union urged in May that the federal and state governments investigate Hollywood hiring practices.
-Steve Straehley
To Learn More:
The Damning Data That Quantifies Inequality in Film (by Jessica Goldstein, ThinkProgress)
Inequality in 700 Popular Films: Examining Portrayals of Gender, Race, & LGBT Status from 2007 to 2014 (by Dr. Stacy L. Smith, Marc Choueiti, Dr. Katherine Pieper & Traci Gillig, Dr. Carmen Lee and Dylan DeLuca; Media, Diversity, & Social Change Initiative) (pdf)
Native American Actors Walk off Set of Adam Sandler/Netflix Movie in Protest of Insulting Script (by Noel Brinkerhoff, AllGov)
Another Bollywood Bastion Falls to Women (by Karan Singh, AllGov India)
Texas Accused of Denying Film Tax Break because of Positive Portrayal of Immigrants (by Noel Brinkerhoff, AllGov)