Native American Actors Walk off Set of Adam Sandler/Netflix Movie in Protest of Insulting Script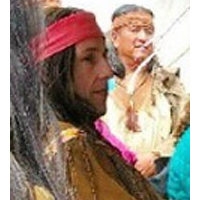 Adam Sandler on set of "Ridiculous Six" (photo: Instagram)
Adam Sandler is making another comedy featuring culturally insensitive character portrayals, but this time he's gotten some pushback from some of his cast.
Sandler is making "The Ridiculous Six," a satire based on the famous western, "The Magnificent Seven." But the script in the Netflix production is insulting to Native Americans, according to a dozen Navajo actors who walked off the set.
Their complaints include naming Native American women "Beaver's Breath" and "Wears No Bra" and making the film's Apache characters resemble Comanche. "We were supposed to be Apache, but it was really stereotypical and we did not look Apache at all. We looked more like Comanche," Loren Anthony, one of the Navajo actors who walked out, told Indian Country. "One thing that really offended a lot of people was that there was a female character called Beaver's Breath. One character says 'Hey, Beaver's Breath.' And the Native woman says, 'How did you know my name?'" Another complaint was black actors wearing makeup were portraying Native Americans.
The movie is not Sandler's first to include an insensitive representation of a minority.
His film, "50 First Dates," featured actor Rob Schneider playing a Hawaiian speaking pidgin and acting idiotic.
-Noel Brinkerhoff
To Learn More:
Native Actors Walk off Set of Adam Sandler Movie After Insults to Women, Elders (by Vincent Schilling, Indian Country)
Adam Sandler's Disturbing Racial Tourism: A Dozen Native American Actors Storm Off Set in Protest (by Marlow Stern, Daily Beast)
McDonald's Gives Away Gen. Custer Toys in Indian Country (by Noel Brinkerhoff, AllGov)