Lax Oversight of Americans Lobbying for Foreign Governments
Thursday, December 18, 2014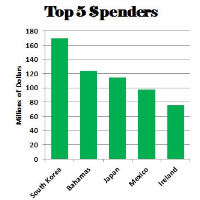 (graphic: Steve Straehley, AllGov)
The federal government has been failing to properly regulate the lobbying activities of those who represent foreign interests, according to a watchdog organization.
The Project on Government Oversight (POGO) went through four years of filings with the U.S. Department of Justice by lobbyists who are required under the Foreign Agents Registration Act (FARA) to disclose who they work for.
One mandate, for example, says these lobbyists must report any informational materials they distribute to two or more people within 48 hours. But POGO's review of Justice records revealed that "lobbyists for foreign interests have routinely failed to comply with the law," which makes it that much harder to keep tabs on those trying to influence legislators.
One big problem is the Justice Department office that is supposed to keep updated records is actually "a record-keeping mess." That has allowed nearly half of required disclosures to be filed late. The law also doesn't require lobbyists to disclose when they disseminated the materials.
"Without it, there may be no way for the government or the public to know whether lobbying materials were filed on time," Ben Freeman and Lydia Dennett wrote.
Even when lobbyists are found to be in noncompliance with the law, they're not likely to get into trouble. The Justice Department rarely seeks an injunction against the offender. "While the FARA statute and regulations authorize the pursuit of formal legal proceedings, such as injunctive remedy options, the FARA Unit [has] not pursued injunctive remedy options recently and has instead utilized other mechanisms to achieve compliance," a Justice official told POGO.
-Noel Brinkerhoff
To Learn More:
Loopholes, Filing Failures, and Lax Enforcement: How the Foreign Agents Registration Act Falls Short (by Ben Freeman and Lydia Dennett, Project on Government Oversight)
Top Foreign Governments Seeking to Influence Washington (by Noel Brinkerhoff, AllGov)