Killing and Wounding of People in Mass Shootings Is a Weekly American Ritual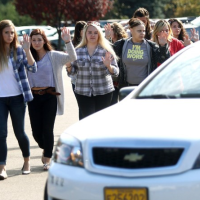 Students at Umpqua Community College after the Oct. 1 shooting (photo: Michael Sullivan, News-Review via AP)
The law of averages says there will be another mass shooting in the United States next week.
After the shooting Thursday in Oregon, The Washington Post's Philip Bump wrote that since President Barack Obama began his second term in office, "a Sunday-to-Saturday calendar week has not passed without a mass shooting incident."
The Guardian reported that since Obama was reelected in November 2012, there have been 993 mass shooting events in the country. The tragedy at Umpqua Community College was No. 994.
"America is the only developed country where when someone asks if you heard about that campus shooting, you have to clarify, 'Which one?' That is unacceptable. Something has to change," Colin Goddard, a survivor of the 2007 massacre at Virginia Tech, said in a statement, according to Newsweek.
In 2015 alone, there have been 294 mass shootings, which is defined as four or more people killed or injured by gunfire, according to the Mass Shooting Tracker.
Mass Shooting Tracker is now being used by many in the media to report on gun attacks, instead of relying on the Federal Bureau of Investigation's (FBI) definition of three or more people killed by gunfire. According to the FBI, if no one dies, it's not a mass shooting. So incidents such as 11 people wounded in a Georgia barroom shootout, or six people shot outside a Tulsa nightclub aren't on the bureau's radar.
-Noel Brinkerhoff, Steve Straehley
To Learn More:
Shooting in Oregon: So Far in 2015, we've had 274 Days and 294 Mass Shootings (by Christopher Ingraham, Washington Post)
There's Been No Calendar Week without a Mass Shooting during President Obama's Second Term (by Philip Bump, Washington Post)
Another: The 45th Mass Shooting in America in 2015 (by Michele Richinick, Newsweek)
Oregon College Shooting is 994th Mass Gun Attack in US in Three Years (by Nicky Woolf, The Guardian)
Mass Shooting Tracker (Shootingtracker.com)
Two-Thirds of Mass Shootings Take Place in Private Residences, not in Public (by Noel Brinkerhoff, AllGov)
U.S. has 5% of World Population, but 31% of Public Shootings of 4 or more Victims (by Noel Brinkerhoff and Danny Biederman, AllGov)