Two-Thirds of Mass Shootings Take Place in Private Residences, not in Public
Tuesday, September 01, 2015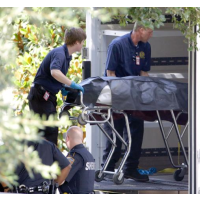 A body is removed from a Houston home where 8 family members were murdered (photo: David J. Phillip, AP)
Mass shootings in schools, churches and movie theaters grab the headlines, but it's the same kind of shootings in private homes that cause more carnage.
The gun control group Everytown for Gun Safety reviewed all mass shootings—those with four or more victims— that occurred between January 2009 and July of this year, and determined that two-thirds of them took place in private residences.
Using Federal Bureau of Investigation data and media reports, Everytown determined there were at least 134 mass shootings in the nearly seven-year period. Of these, 91 (68%) occurred in private residences.
The group also found that at least 76 of the cases (57%) involved a shooter killing a current or former spouse or intimate partner or other family member.
"The untold story of mass shootings in America is one of domestic violence," Melissa Jeltsen wrote at Huffington Post after reviewing Everytown's statistics. "It is one of men (yes, mostly men) targeting and killing their wives or ex-girlfriends or families. The victims are intimately familiar to the shooters, not random strangers," Jeltsen wrote.
This kind of domestic violence is "frequently preceded by a flurry of red flags: 911 calls, hospitalizations, broken protective orders, repeat arrests, contentious custody battles, death threats and stalking," she added.
-Noel Brinkerhoff
To Learn More:
Analysis of Mass Shootings (Everytown for Gun Safety)
Mass Shooting Incidents January 2009–July 2014 (Everytown for Gun Safety) (pdf)
We're Missing The Big Picture On Mass Shootings (by Melissa Jeltsen, Huffington Post)
The Under-Reported Truth Behind Most Mass Shootings (by Terrell Jermaine Starr, AlterNet)
U.S. has 5% of World Population, but 31% of Public Shootings of 4 or more Victims (by Noel Brinkerhoff and Danny Biederman, AllGov)