Kansas Bill would Restrict ATM Withdrawals for Welfare Recipients to $25 a Day
Wednesday, April 08, 2015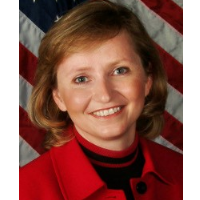 Sen. Caryn Tyson (photo: Kansas Senate)
A welfare reform bill approved by the Kansas Senate would limit ATM withdrawals of public assistance to only $25 a day.
The restriction would apply recipients who rely on a Vision card, a kind of debit card, to access their welfare assistance. There currently is no limit on withdrawals using these cards.
The $25 limit came as an amendment offered by Republican Sen. Caryn Tyson to HB 2258, which originally set the limit at $60 a day.
Democratic Sen. Oletha Faust-Goudeau called the amendment ludicrous, saying a limit could create significant problems for beneficiaries. She said some of her constituents, many of whom are mothers, need to withdraw $600 to pay their rent each month.
HB 2258 would impose other restrictions, like kicking people off welfare altogether after a lifetime limit of 36 months. It also would ban repeat drug offenders for life from receiving food assistance.
The Kansas Senate approved the bill and sent it to Gov. Sam Brownback (R), then left the capital for their Easter holiday.
-Noel Brinkerhoff
To Learn More:
Bill Tightening Restrictions on Welfare Recipients Advances in Kansas Senate (by Bryan Lowry, Wichita Eagle)
Kansas To Impose Unprecedented Restriction On Welfare Recipients (by Bryce Covert, ThinkProgress)
S Sub for HB2258 (Kansas Legislature)
Kansas Judge Sues Gov. Brownback over Alleged Violation of Separation of Powers (by Noel Brinkerhoff, AllGov)
Kansas Supreme Court Declares State Government's Funding of Education Unequal and Unconstitutional (by Steve Straehley, AllGov)