Kansas Judge Sues Gov. Brownback over Alleged Violation of Separation of Powers
Tuesday, February 24, 2015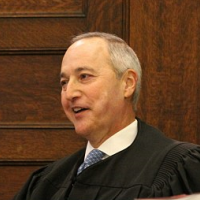 Judge Larry Solomon (AP photo)
Kansas' top judge is suing the state after its Republican governor signed legislation taking away the state Supreme Court's authority over appointing judges.
Last year, Governor Sam Brownback approved a new law that stripped the Supreme Court's 43-year-old power to decide who serves as a judge in the state.
Critics contend the legislature passed the law to punish the high court for ruling against the state in a public education funding case.
"Not only is this law a clear attempt to punish the high court for an unpopular decision, it also stands in violation of the separation of powers doctrine," Ryan Wright, executive director of Kansans for Fair Courts, said in a press release. "Judges should be free of political pressures and decide cases impartially based on the facts and the law. They should not have to worry that their decisions could be used against them for political gain."
Chief Judge Larry Solomon agreed with this sentiment and filed a lawsuit (pdf) to have the law thrown out. The legislation is "a direct encroachment on the Kansas Supreme Court's constitutional authority to administer the judiciary of the State, and, as such, is and should be, declared unconstitutional," states the lawsuit.
Kansas voters in 1972 approved an amendment to the state Constitution that authorized the Supreme Court to administer the state's lower courts.
"This law violates the Kansas constitution," Matthew Menendez, counsel at the Brennan Center for Justice, which represented Solomon in filing the lawsuit, said in a press release. "Over forty years ago, Kansas voters amended their state constitution to unify their courts under the Kansas Supreme Court's authority. This law flies in the face of that amendment and could delay justice for all Kansans."
-Noel Brinkerhoff
To Learn More:
Chief Judge: Legislation on How to Appoint Chief Judges 'in Direct Conflict' with Kansas Supreme Court (by Steve Fry, Topeka Capital-Journal)
Kansas Judge Files Suit Challenging 2014 Judiciary Changes (by Peter Hancock, Lawrence Journal World)
District Court Judge Sues Kansas Over Law That Weakens Courts (by Seth Hoy, Brennan Center for Justice)
Larry T. Soloman v. State of Kansas (Kansas District Court, Shawnee County) (pdf)
Report Reveals Kansas Gov. Brownback's Tax Policies will put His State $1 Billion in Debt…6 Days after He Won Re-Election (by Noel Brinkerhoff and Steve Straehley, AllGov)
Kansas Gov. Brownback Sued for Signing Law Criminalizing the Enforcement of Federal Gun Laws (by Steve Straehley, AllGov)
Kansas Supreme Court Declares State Government's Funding of Education Unequal and Unconstitutional (by Steve Straehley, AllGov)