Justice Dept. Wants to Keep Media Eyes off Court Records on Former Trump Associate's Mafia Informant Work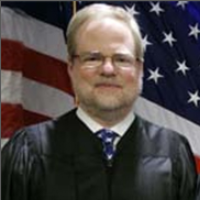 Judge Brian M. Cogan
By Jeff Horwitz, Associated Press
The Justice Department urged a federal judge to keep some records sealed in a criminal proceeding linked to a former business associate of Donald Trump. Among prosecutors' reasons: To avoid media attention.
The case is related to Felix Sater, a former Mafia informant and one-time business associate of Trump. Earlier this week, U.S. District Judge Brian M. Cogan unsealed more than 200 documents related to Sater.
The records confirmed The Associated Press' previous reporting that the U.S. government wanted to protect Sater's role as an informant after he was convicted in 1993 for stabbing a man in the face with a broken margarita glass and again five years later for participating in a $40 million stock fraud scheme tied to the Bonanno and Genovese crime families.
But one of the files indicated that Assistant U.S. Attorney Stephen Green asked to keep some records on Sater secret as recently as this month. Doing so, he said, would prevent "additional media attention and publicity" about Sater's cooperation with federal prosecutors.
The still sealed files include documents that are generally public. They include a legal brief made public by the U.S. Supreme Court and openly available elsewhere. The judge wouldn't say why he would keep such a document under seal in his court.
The case itself is only indirectly tied to Sater, and doesn't relate to Trump, the presumptive Republican presidential nominee.
It involves a five-year criminal contempt proceeding against lawyers Frederick Oberlander and Richard Lerner for revealing details about Sater's career as an informant. The judge has encouraged the Justice Department to file criminal contempt charges, ordering prosecutors to inform him on June 10 whether they intend to do so.
The judge also warned the defendants at a hearing last week of additional criminal charges if they speak about unsealed court documents.
Those released Monday include an October 2014 letter alleging that the pair endangered Sater by leaking his role as an informant to a lawyer for a Colombo crime family member.
But Gerald Shargel, the lawyer who supposedly received the information about Sater, told the AP: "This didn't happen."
And lawyers who represented co-defendants in the stock fraud case from the 1990s said the government told them of Sater's cooperation at the time.
After pleading guilty in that case, Sater altered his name and reinvented himself as a luxury real estate executive. He worked at Bayrock Group LLC, a frequent real estate development partner of Trump's.
Throughout Bayrock's partnership with Trump, Sater also provided intelligence on organized crime and what prosecutors have called vital national security matters.
Oberlander and Lerner allege that prosecutors allowed Sater to commit further misconduct during his time as a secret cooperator. Some of Bayrock's deals with Trump ended in defaulted loans, lawsuits and even purported threats of physical violence. Sater was not required to pay restitution to fraud victims.
There is no evidence Trump knew of Sater's history. Trump appointed Sater a senior adviser for a year around 2010, giving him an office in Trump Tower, official Trump Organization business cards and a license to prospect for new business deals.
The AP asked Judge Cogan to make public the case, which was so opaque the news agency's motion to unseal records was itself initially sealed.
To Learn More:
Criminal Past of Former Trump Business Partner to be disclosed in Unsealed Court Documents (by Jeff Horwitz and Jake Pearson, Associated Press)
Judge Weighs Releasing Sealed Court Records on Convicted Felon Hired as Trump Senior Advisor (by Jeff Horwitz, Associated Press)