Justice Dept. Hit with Lawsuit after Refusing to Disclose Rules for Spying on Journalists
Wednesday, August 05, 2015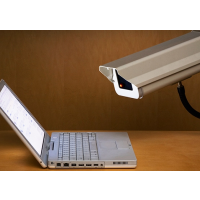 Getty Images
The U.S. Department of Justice has refused to reveal its rules for spying on the media, prompting one group representing journalists to sue the agency in federal court.
The Freedom of the Press Foundation filed a lawsuit with the U.S. District Court in San Francisco seeking documents under the Freedom of Information Act that document Federal Bureau of Investigation (FBI) procedures for issuing national security letters to spy on the media. The Justice Department has so far refused to release the information or even respond to the FOIA request the foundation made in March.
Victoria Baranetsky, the foundation's attorney, told Courthouse News Service obtaining the records and publishing them "is necessary to deter chilling effects on the press and its sources, especially given recent years during which the Obama Administration has increased surveillance of reporters."
The Associated Press was targeted by the Justice Department in 2013 when the agency secretly obtained months of phone records for at least seven journalists on 20 phone lines. The administration was trying to learn at the time the source of a government leak regarding Central Intelligence Agency (CIA) work to thwart a terrorist plot.
The Justice Department also investigated Fox News reporter James Rosen in connection with a possible leak of classified information by a government contractor, according to Courthouse News Service.
After these and other such incidents were exposed, the Justice Department created guidelines for prying into the work of journalists. "But the guidelines did not apply to FBI agents using national security letters to get telecom companies, libraries and others to secretly hand over information, including Internet records of U.S. citizens without court oversight," Elizabeth Warmerdam wrote at Courthouse News Service.
-Noel Brinkerhoff
To Learn More:
Watchdog Demands Rules on FBI Media Spying (by Elizabeth Warmerdam, Courthouse News Service)
Freedom of the Press Foundation Sues DOJ over Its Secret Rules for Spying On Journalists (by Mike Masnick, Techdirt)
Justice Dept. Secretly Obtained Phone Records of Associated Press…Obama Crosses the Freedom of the Press Line (by Noel Brinkerhoff and David Wallechinsky, AllGov)
What is the Secret Memo that Gives Obama's FBI Access to Phone Records without Court Approval? (by Noel Brinkerhoff, AllGov)