Justice Dept. Audit Criticizes DEA for Poor Oversight of Drug Informants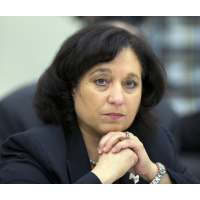 Former DEA Administrator Michele Leonhart (photo: Manuel Balce Ceneta, AP)
The Drug Enforcement Administration (DEA) has been accused by the inspector general for the Justice Department of doing a poor job of overseeing its confidential sources.
Inspector general Michael Horowitz raised questions about the use of certain individuals as drug informants and the agency's compensation of them.
The IG found examples of informants who had broken the law and were being investigated while working with the DEA. "In some cases, the DEA continued to use, for up to six years without any (Department of Justice) intervention, individuals who were involved in unauthorized illegal activities and who were under investigation by federal entities," according to the report.
The inspector general was stonewalled in his efforts to get information from DEA, delaying access to reports "for months at a time," according to Courthouse News Service.
The auditors also raised concerns about payments made to informants, or in some cases their families, under the Federal Employees' Compensation Act (FECA), which authorizes payments for federal workers injured or killed on the job.
The DEA paid 17 confidential sources or their dependants more than $1 million from July 1, 2013 to June 30, 2014, the IG found. "In some cases, the DEA has been paying FECA benefits since 1974, but we could not determine the total historical cost because the DEA and [Department of Labor] do not track payments to confidential sources receiving FECA benefits," according to the inspector general's report. The family of one informant who died received more than $1.3 million in FECA payments since his death in 1989, according to the IG.
-Noel Brinkerhoff
To Learn More:
Federal Audit Blasts DEA For Informant Mishandling (by Matt Potter, San Diego Reader)
DEA Ripped in Audit for Lax Informant Oversight (by Adam Klasfeld, Courthouse News Service)
U.S. DOJ Criticizes DEA Informant Program (Snitching.org)
Audit of the Drug Enforcement Administration's Confidential Source Policies and Oversight of Higher-Risk Confidential Sources (Department of Justice, Inspector General) (pdf)