Judicial System finds its Use of Social Media to be Double-Edged Sword
Friday, November 04, 2016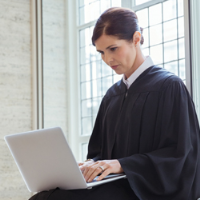 (photo: Paul Bradbury, Getty Images)
By Jessica Floum, San Francisco Chronicle via New York Times
SAN FRANCISCO -- When an Alameda County nonprofit serving refugees planned to sue a purported Kuwaiti terrorist financier, they faced one major legal hurdle: serving him the lawsuit.
The allegations -- funding Christian genocide in Iraq and Syria -- had roots in conflicts going back millennia. But the ultimate solution -- Twitter -- was barely a decade old. And the case highlights just one of many ways the legal system finds itself rapidly adjusting to the spread of electronic messaging.
Representing St. Francis Assisi, Alameda attorney Mogeeb Weiss spent at least a month trying to serve Hajjaj al Ajmi with a lawsuit against him and two Middle Eastern banks. He tried contacting al Ajmi's local attorney, who didn't respond. He mailed the process to the Kuwaiti government, which he said rejected the package.
Weiss suspected al Ajmi was hiding in Kuwait because he appeared on lists of individuals sanctioned by the United Nations and U.S. Department of Treasury.
But al Ajmi was hardly hiding from the Internet. He tweeted hourly, Weiss said. While Weiss failed again and again to reach him, al Ajmi shared videos with his 101,000 Twitter followers asking for money.
Then it clicked; Weiss would serve @hajjaj1407 on Twitter. In September, Magistrate Judge Laurel Beeler of the Northern District of California granted St. Francis Assisi permission to tweet a summons and complain stored on Mediafire, a Dropbox-like file-sharing service.
In early October, al Ajmi retweeted another user's message about the notice, spreading it to his followers, who railed against the nonprofit. His account was deactivated a couple of weeks later. The retweet may have brought online opprobrium on St. Francis Assisi for bringing the suit, but it also indicated he was likely aware of the tweet.
For courts, social media may open up new doors to reach defendants and other participants in the legal process, as well as communicate with the public. But it poses risks, too.
Upholding the Sixth Amendment right to a fair trial in part means making sure all parties know they are part of a lawsuit so they may defend themselves. This is done through what's called service of process, which historically meant handing the individual in question a document to ensure they were notified. When a defendant can't be found, parties will often publish a notice in the paper in the hopes the individual, their friends or their family might see it.
In this case, Twitter served as a 21st century newspaper.
In 2013, the Federal Trade Commission was permitted to serve defendants located in India via Facebook and email ``for the sake of thoroughness.''
The next year, a New York court allowed service through Facebook in a child-support case. Just last year, the New York County Supreme Court ruled that a woman could serve her husband with a divorce summons via private Facebook message since he had no permanent address.
``It really is a last-ditch effort to notify the person they're being sued,'' said Greg Hurley, senior analyst at the National Center for State Courts. ``Every one of these I've looked into, there have been a few attempts'' to reach the defendant through more conventional means.
Deploying social summons has its own challenges. Teens have first dropped Facebook for Instagram, then flitted to Snapchat. Just because an individual has an account may not mean it's active.
It is also too easy for people to pose as someone they are not, said Lori Andrews, law professor at Chicago-Kent College of Law, who believes courts ``are putting much too much stock in social media.''
When it comes to the Web and social media, judges' biggest concern may not be finding plaintiffs, but keeping jurors unbiased. They've long forbade jurors from researching or discussing cases outside the courtroom. In the digital age, that also means telling jurors to stay offline.
``The right to fair trial in the age of Facebook has kind of been turned upside down,'' Andrews said.
In 2009, a San Francisco Superior Court judge dismissed 600 potential jurors after some admitted to researching a case online. In 2001, eight Florida jurors admitted to researching a federal drugs trial online, which led to a mistrial.
California responded in 2011 by making sharing or receiving any information about a case online a punishable misdemeanor.
``Use of electronic and wireless devices by jurors has caused mistrials, overturned convictions, and court delays,'' the legislative analysis of the 2011 bill said.
The Administrative Office of the U.S. Courts said it does not keep data on the number of social media-related mistrials. The rules concerning social-media use in federal courts depend on each individual court, said Jackie Koszczuk, public information officer at the Administrative Office of the U.S. Courts.
However, Hurley said he writes about a case overturned because of mistrial ``virtually every week'' on a jury-related news blog called the Jur-E Bulletin.
``We call them Google mistrials,'' Hurley said, describing cases where jurors look up their case on Google, Facebook or Twitter.
The two most common ``Google mistrials'' are jurors looking up the criminal history of a defendant and jurors looking up legal definitions of terms that might conflict with the court's definition.
The temptation for jurors to research isn't new, but the accessibility of information is, said George Fisher, a law professor at Stanford Law School.
``The temptation might be greater when the access is more immediate,'' Fisher said.
For Weiss, the immediate access unique to the Internet proved a ``tremendous tool.''
``We would have never been able to reach defendant al Ajmi,'' Weiss said. ``It did us a major favor.''
To Learn More:
For First Time, A U.S. Court Serves a Lawsuit by Tweet (by Nicholas Iovino, Courthouse News Service)