For First Time, A U.S. Court Serves a Lawsuit by Tweet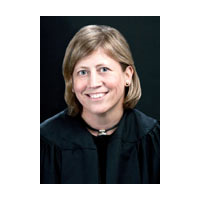 Judge Laurel Beeler
By Nicholas Iovino, Courthouse News Service
SAN FRANCISCO (CN) - In what may be a first for U.S. courts, a federal judge has authorized serving a foreign national with a lawsuit via Twitter.
In June, a California nonprofit sued two Middle Eastern banks and a Kuwaiti sheikh for allegedly funding a Christian genocide in Iraq and Syria.
St. Francis of Assisi, an Alameda-based nonprofit that assists refugees, told the court in August that it had trouble serving one of the defendants - Kuwaiti born Sunni cleric Hajjaj al-Ajmi.
Al-Ajmi, who was blacklisted as a financer of terror by the United States and United Nations, has organized Twitter campaigns to help fund the Islamic State's systematic murder and displacement of Assyrian Christians, according to the lawsuit.
Because Kuwait is not a signatory to the Hague Convention, St. Francis could not serve al-Ajmi through a centralized authority as it can in other nations that are parties to the convention.
In a Sept. 30 ruling, U.S. Magistrate Judge Laurel Beeler granted the plaintiff's request to use an alternative method to serve al-Ajmi with the suit: Twitter.
"The court grants St. Francis's request because service via Twitter is reasonably calculated to give notice and is not prohibited by international agreement," Beeler wrote in her 4-page ruling.
St. Francis attorney Mogeeb Weiss, of Alameda, said he believes this is the first time a federal court has authorized serving a lawsuit by tweet.
"The plaintiff is setting up the mechanism for putting notices on the defendant's Twitter," Weiss said. "We will tweet it at them with a link where the summons and complaint can be obtained."
Finding al-Ajmi's current Twitter handle could prove challenging because many of his previous accounts have been disabled by the social media platform.
Still, St. Francis insisted in its request for an alternative method of service that al-Ajmi remains active on Twitter.
In her ruling, Beeler cited prior cases in which federal courts have approved serving foreign nationals with lawsuits via Facebook and other social media platforms.
In 2014, a federal judge in the Eastern District of Virginia authorized serving a Turkish defendant with a lawsuit through email, Facebook and LinkedIn in the case WhosHere Inc. v. Gokham Oran, according to Beeler's ruling.
The judge also cited another case - Federal Trade Commission v. PCCCare Inc. - in which a Southern District of New York judge approved serving a defendant business in India with a lawsuit through Facebook.
"As in WhosHere and PCCare, service by the social-media platform Twitter is reasonably calculated to give notice to and is the 'method of service most likely to reach' al-Ajmi," Beeler wrote.
Weiss said he expects his client to tweet the lawsuit to al-Ajmi sometime next week.