Judge Orders Florida to Fix Voter-Signature Problem in State's "Bizarre" and "Illogical" Voting Law
Tuesday, October 18, 2016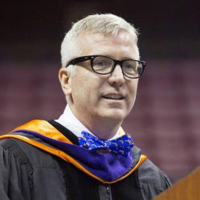 Judge Mark Walker (photo: FSU College of Law)
By Gary Fineout, Associated Press
TALLAHASSEE, Fla. (AP) — Calling the state's current law "illogical" and "bizarre," a federal judge has ordered the state of Florida to give thousands of voters a chance to make sure their vote-by-mail ballots are counted.
Florida officials on Monday said they would not challenge the decision by U.S. District Judge Mark Walker, which adds a new duty for the state's 67 election supervisors as they enter the final stretch before a heavily contested presidential election.
Walker ruled that county election offices should notify voters if their signature on a vote-by-mail ballot and their voter registration forms don't match. Voters would then be given a chance to fix the problem by 5 p.m. the day before the election.
The Florida Democratic Party sued the state saying that voters could be disenfranchised because election officials can discard the ballot if the signature doesn't match the one already on file. Voters aren't told about the problem until after the election is over. But state law requires election officials to notify a voter ahead of time if their mail ballot does not have a signature on it.
Walker, who was first appointed to the federal bench in 2012 by President Barack Obama, said that discrepancy makes the law unconstitutional.
"It is illogical, irrational, and patently bizarre for the state of Florida to withhold the opportunity to cure from mismatched-signature voters while providing that same opportunity to no-signature voters," Walker wrote in a ruling released late Sunday. "And in doing so, the state of Florida has categorically disenfranchised thousands of voters for no reason other than they have poor handwriting or their handwriting has changed over time."
Meredith Beatrice, a spokeswoman for Secretary of State Ken Detzner, said the state would not appeal the decision. Detzner, the state's top election official, complied with the judge's order by sending out instructions to local election offices.
Brian Corley, the elections supervisor in Pasco County, said that the ruling should not be a burden for his office since his staff had been reaching out for years to voters with mismatched signatures. But the practices could vary in each county.
It is not clear exactly how many voters would be affected by the decision. But more than 23,000 vote-by-mail ballots were rejected by Florida election officials during the 2012 presidential election in which Obama carried the state by slightly more than 74,000 votes. Some of those ballots were rejected due to mismatched signatures.
Nearly 513,000 Floridians have already voted by mail so far this year, according to data compiled by the Florida Division of Elections. And another 2.4 million vote-by-mail ballots have been requested.
Judge Walker, citing the contentious 2000 Florida election in which George W. Bush carried the state over Al Gore by 537 votes, said he needed to act because the current practice was enough of a burden to affect the outcome of an election and "by extension, our country's future."
Florida's Republican-controlled Legislature in 2004 passed a law that said all vote-by-mail ballots that had mismatched signatures or did not contain a signature were to be tossed out. But then in 2013 legislators changed the law to allow people who turned in a ballot without a signature to fix the mistake prior to the election.
Detzner did not try to defend the current law. Instead his lawyers asserted that he could not order county election offices to correct the problem and that he was not the proper person to sue. Walker disagreed sharply in his decision.
Walker rebuked Detzner on Saturday in a separate scathing ruling connected to the same case. The judge accused Detzner of delaying a hearing on the lawsuit "so that he could use every second available to run out the clock" so there wouldn't be enough time to address problems raised in the lawsuit. The judge also said Detzner's actions amounted to an "undeclared war" on the right to vote in Florida, the largest swing state in the presidential election.
To Learn More:
Florida Democratic Party, et al., v. Ken Detzner (U.S. District Court, Northern District of Florida) (pdf)
Lawsuit against Florida "Non-Citizen List" Falls Victim to Supreme Court Voting Rights Ruling (by Danny Biederman and Noel Brinkerhoff, AllGov)
Limiting Voters in Florida…Long Lines and Signatures of Stroke Victims (by Noel Brinkerhoff, AllGov)
Federal Courts Versus Republican Efforts to Limit Voting: Florida (by Noel Brinkerhoff, AllGov)