Is Volleyball a Threat to Islamic Extremists?
Tuesday, November 25, 2014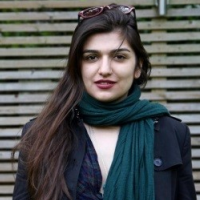 Ghoncheh Ghavami (photo: Free Ghoncheh Campaign, AP)
From suicide bombings to political protests, volleyball has been at the center of recent high-profile incidents in countries known for Islamic extremists.
In eastern Afghanistan, about a hundred people were killed or wounded by a suicide bomber at a volleyball game in the Yahya Khel district of Paktika province. Most of the dead were civilians, but eight were members of the Afghan Local Police, a paramilitary unit that backs the Afghan government, according to The New York Times. Volleyball is popular in rural areas of Afghanistan, and has not been known as a target for extremists.
The sport also is popular in Iran, where a group of women were arrested in June for staging a protest outside a men's game. The women sought access to the event in defiance of local custom that allows only male spectators. One of those arrested was British-Iranian Ghoncheh Ghavami, who was freed on bail over the weekend after spending five months imprisoned for the protest. A two-year ban on traveling outside the country remains in force, however.
"Ghavami was freed because of health problems and was staying with her parents in Tehran awaiting a decision by the Court of Appeal," BBC News reported.
-Noel Brinkerhoff
To Learn More:
Blast at Game Kills Dozens in Afghanistan (by Joseph Goldstein, New York Times)
Suicide Bomber Kills 45 at Volleyball Match in Afghanistan (by Samiullah Paiwand, Reuters)
Volleyball Woman Ghoncheh Ghavami Out of Iran Prison (BBC News)
Ghoncheh Ghavami Released on Bail from Prison in Iran (by Harriet Alexander, The Telegraph)