Information Requests from Congress and Federal Agencies Fall on Deaf Ears at NSA
Wednesday, August 07, 2013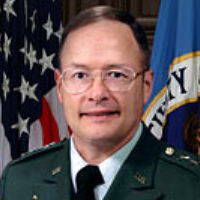 NSA Director Keith Alexander
The National Security Agency (NSA) is big on collecting vast amounts of intelligence data, but short on sharing it or details of its operations with members of Congress and other federal agencies.
Many other wings of the Executive Branch, including law enforcement and homeland security, have wanted access to NSA intelligence to help them with their own investigations. But oftentimes NSA officials have rejected the requests for various reasons.
"It's a very common complaint about N.S.A.," Timothy H. Edgar, a former senior intelligence official at the White House and at the Office of the Director of National Intelligence, told The New York Times. "They collect all this information, but it's difficult for the other agencies to get access to what they want."
The Drug Enforcement Administration, the Secret Service, the Department of Defense and the Department of Homeland Security have sought assistance from the NSA while working to stop drug trafficking, cyber-attacks, money laundering, counterfeiting and copyright infringement . Although smaller intelligence units within these agencies have occasionally been granted access in specific cases, more often than not the agencies have been turned down, with the NSA saying the investigations were not serious enough to warrant sharing whatever information the agency possesses.
Eric Lichtblau and Michael S. Schmidt of the Times wrote that the agencies' requests have been rejected "because the links to terrorism or foreign intelligence, usually required by law or policy, are considered tenuous." They added: "Officials at some agencies see another motive — protecting the security agency's turf — and have grown resentful over what they see as a second-tier status that has undermined their own investigations into security matters."
Adding to the agencies' frustration is the fact that the NSA's stonewalling flies in the face of a 2008 executive order modification intended to facilitate NSA's sharing of surveillance data with other agencies that submitted requests deemed "relevant" to its own investigations.
The NSA also has been less than forthcoming with lawmakers about the agency's work.
Two House members, Republican Morgan Griffith of Virginia and Democratic Alan Grayson of Florida, told a British newspaper that they have written numerous letters (examples here and here) and emails to NSA officials to learn about its programs and rulings from the secretive Foreign Intelligence Surveillance Court (FISA court) that authorize NSA snooping, only to be thwarted time and again.
"If I can't get basic information about these programs, then I'm not able to do my job," Griffith told Glenn Greenwald of The Guardian.
Griffith added that his job includes "making decisions about whether these programs should be funded, but also an oath to safeguard the Constitution and the Bill of Rights, which includes the Fourth Amendment," which protects Americans from illegal searches.
Congressional "Intelligence Committees are captured by the [NSA] and constrained to act even if they were inclined to," wrote Greenwald. "Whatever else is true, members of Congress in general clearly know next to nothing about the NSA and the FISA court beyond what they read in the media, and those who try to rectify that are being actively blocked from finding out."
-Noel Brinkerhoff
To Learn More:
Other Agencies Clamor for Data N.S.A. Compiles (by Eric Lichtblau and Michael S. Schmidt, New York Times)
Members of Congress Denied Access to Basic Information about NSA (by Glenn Greenwald, The Guardian)
Morgan Griffith's Requests for NSA Information – Read the Letters (The Guardian)
Alan Grayson's Requests for NSA Information – Read the Correspondence (The Guardian)
NSA Phone Surveillance Records May Hold Treasure Trove of Evidence for Garden Variety Crimes (by Noel Brinkerhoff and Danny Biederman, AllGov)
Majority of Senators Skipped Important Briefing about Classified Surveillance Program (by Matt Bewig, AllGov)
Lawmakers Refute Obama's Claim that Full Congress Knew about NSA Program (by Noel Brinkerhoff and Danny Biederman, AllGov)