If the Draft Ended 41 Years Ago, Why are Young Men Still Punished for not Registering?
Wednesday, October 22, 2014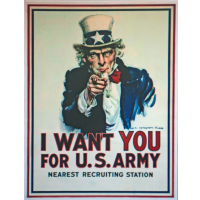 (graphic: Smithsonian Museum)
The U.S. government hasn't drafted young people into the military since the Vietnam War. But each year millions of teenage men are required to register for a draft that does not exist.
Failure to comply brings serious consequences.
All men, with only a few exceptions, age 18 to 25 are mandated to register with the Selective Service System. Last year, 2.5 million individuals signed up, with the national compliance rate among 19-year-olds at 89%.
Those who don't sign up fail to do so either out of ignorance about the requirement or for other reasons. Those individuals are then barred from receiving federal financial aid or student loans. They also can't receive job training funded by the federal government, or gain employment from certain public agencies.
In 40 states, getting or renewing a driver's license is linked to whether a person registered for the draft.
Tens of thousands of young American men are sanctioned each year for failure to register, estimates the Selective Service. Their names, and those of many more men suspected of violating the registration law, are also routinely passed along to the Department of Justice. Although it hasn't prosecuted anyone for that crime since 1986, each violator is at risk for spending five years in prison and being fined up to $250,000.
"We need to have some type of penalty in order to help us get that compliance," Selective Service director Lawrence G. Romo explained to The Washington Post. "You can never say never. We are a deterrent. We want to make sure our adversaries understand that if we had an extreme national emergency, we would have the draft."
Yet, points out the Post's Tina Griego, "The odds of this country returning to a draft are almost zero, but the price for failure to register is high and is largely born by the men who can ill afford to pay it: high school dropouts, disconnected inner city residents, ex-offenders and immigrants — legal and unauthorized — who do not know that failure to register can jeopardize citizenship. In other words, those precisely in need of the type of job training, education and citizenship opportunities that could help move them from the margins to the mainstream."
It is for this reason that Representative Charles Rangel (D-New York) has introduced two draft-related bills this year—one that would require women to register, and the other that would require every citizen between the age of 18 and 25 to perform two years of military or community service. Making the system all-inclusive "would compel everyone in the nation to stop and think about who we sent to wars, how we fight – and why we fight them at all," he told the Post.
Meanwhile, he added, "Having people penalized for not registering is a fraud." His upcoming bill will be a call for the abolishment of the Selective Service altogether.
- Danny Biederman, Noel Brinkerhoff
To Learn More:
America May Never Have a Draft Again. But We're Still Punishing Low-Income Men for Not Registering (by Tina Griego, Washington Post)
Supreme Court Says Men Denied Federal Jobs for Failing to Register for the Draft Can't Use Courts to Charge Sex Discrimination (by David Wallechinsky and Noel Brinkerhoff, AllGov)
Why Do We Still Pay for Draft Boards if They Can't Mobilize within 9 Months? (by Noel Brinkerhoff, AllGov)