How the Obama Administration Let the Oil Industry Drill in Alaska Wilderness after 15 Years of Protection
Monday, December 28, 2015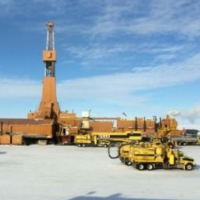 Exploration rig in Greater Mooses Tooth (photo: BLM)
Despite its name, the National Petroleum Reserve-Alaska is a mostly unspoiled wilderness in Alaska's far north. For years, the only oil drilling allowed there was a low-impact site specially planned to have the least effect on the land and those who lived near it.
Until now. The Obama administration has approved a plan by oil giant ConocoPhillips to begin operations in the Greater Mooses Tooth area just west of Prudhoe Bay. The project, which will include the construction of roads through a previously pristine wilderness, was given the green light after years of lobbying by ConocoPhillips and an Alaskan who has worked for years to push for drilling no matter the cost to the environment, according to a report by ProPublica and Politico.
Andrew Lundquist was staff director of Vice President Dick Cheney's infamous energy committee. Lundquist was the driving force behind efforts to begin the process of spoiling the National Petroleum Reserve-Alaska, Alec MacGillis wrote for ProPublica and Politico. The area, despite its name bestowed by the U.S. Navy during World War II, is a large wilderness area inhabited by thousands of wild animals and a few Alaskan Natives.
Lundquist left the Bush administration to set up a lobbying shop. With ConocoPhillips as a client, he continued to push for a project in the reserve. But instead of being like the one site approved during the Clinton administration that was restricted to drilling during winter and needed no roads to operate, the Greater Mooses Tooth project would require the construction of roads, bridges and even an airstrip. Lundquist later went to work directly for the oil company and continued to push for the project.
Environmentalists fought the project and when it seemed inevitable, proposed road-building alternatives that would do less damage to the environment. But the Bureau of Land Management (BLM) signaled that it was prepared to approve the Greater Mooses Tooth as the oil company wanted. "BLM in Alaska is coming perilously close to acting as a leasing agent of the ConocoPhillips company," Clinton Interior Secretary Bruce Babbitt, who fought the project, said according to the reporting.
By 2015, the deal was done. Intensive lobbying to officials of Sally Jewell's Department of the Interior and the Army Corps of Engineers paid off and ConocoPhillips won the right to drill and do so via the cheapest and most environmentally disturbing way possible.
Despite plunging oil prices, construction on the project is set to begin in the coming year. And Lundquist gave his bosses at ConocoPhillips a nice Christmas present: an amendment to the giant spending bill signed earlier this month by President Obama to allow U.S. oil to be exported, fought for by Lundquist.
-Steve Straehley
To Learn More:
'Somebody Intervened in Washington' (by Alec MacGillis, ProPublica)
Alaska Governor Wants to Pay for Climate Change Programs by Drilling in Arctic Wildlife Refuge (by Noel Brinkerhoff and Steve Straehley, AllGov)