House Investigation Uncovers New Secret Service Security Breaches
Tuesday, December 08, 2015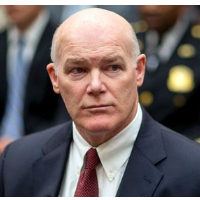 Secret Service Director Joseph Clancy (photo: Andrew Harrer) Bloomberg/Getty Images)
The Secret Service has allowed even more security breaches than have been previously disclosed, according to a bipartisan congressional report.
A man impersonating a member of Congress walked into a secure backstage area without being properly screened and spoke with President Barack Obama at an awards dinner last fall. Only five days later, a woman walked backstage unchecked at a dinner where Obama was a featured guest. And, according to The Washington Post, two people traveled past a Secret Service checkpoint without being noticed and reached the White House grounds.
"The agency's recent public failures are not a series of isolated events, but the product of an insular culture that has historically been resistant to change," according to the report, prepared by the Republican and Democratic staffs of the House Committee on Oversight and Government Reform.
The Secret Service had already had lapses such as shots being fired at the White House and not discovering the incident for four days, and for permitting an armed man with an arrest record to board an elevator with Obama.
"The incidents were among a half-dozen previously undisclosed security breaches since 2013 that were detailed in an extensive, bipartisan congressional investigation of the inner workings of the Secret Service," the Post's Carol Leonnig reported.
The report described the Secret Service as an "agency in crisis" suffering from low morale, an insular culture, staffing reductions and high attrition.
-Noel Brinkerhoff
To Learn More:
New Breaches Revealed in Report that says Secret Service is 'In Crisis' (by Carol Leonnig, Washington Post)
United States Secret Service: An Agency in Crisis (by Jason E. Chaffetz and Elijah E. Cummings, Committee on Oversight and Government Reform, U.S. House of Representatives)
Yet another Way to Put Obama in Danger: Let Him Ride in an Elevator with an Armed Convict (by Noel Brinkerhoff, AllGov)
Secret Service, in 2011, Was Unaware of Shots Fired at White House until Housekeeper Found Clues 4 Days Later (by Noel Brinkerhoff and Steve Straehley, AllGov)
Secret Service Director Pulled White House Agents to Protect his Assistant (by Noel Brinkerhoff, AllGov)