High Unemployment Rate and Low Pay for U.S. Military Spouses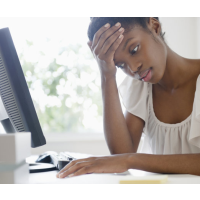 (photo: Getty Images)
By Lolita C. Baldor, Associated Press
WASHINGTON (AP) — Military spouses struggle to find jobs and are more likely to work for less pay or in positions below their education level, spurring unemployment and other costs of as much as $1 billion a year, according to a study.
Wrestling with frequent moves, deployments and erratic schedules of their service member mates, military spouses have an unemployment rate of up to 18 percent, compared to last month's national jobless rate of 5 percent.
The problem is not new to the Pentagon, and in recent years has triggered a flood of new programs aimed at encouraging companies to hire military veterans and spouses.
The latest study was commissioned by Blue Star Families, a group that coordinates services for families with a loved one who is currently serving or has served in the military. And it found that up to 42 percent of military spouses — or as many as 95,000 — are jobless, compared to about 25 percent of a comparable civilian spouse population. In addition, it estimated that military spouses with a bachelor's degree earn 40 percent less than their civilian counterparts.
The report noted that various groups have done studies on military spouse unemployment that yielded varying statistics. But there was broad agreement on the overall conclusion that they face higher unemployment rates than civilians, especially those of comparable age.
"The math is shocking, but it also shows the way forward," said Kathy Roth-Douquet, founder and chief executive officer of Blue Star Families. "If we work together to reverse the crippling employment trends facing military spouses, we will add money back to our economy."
And she called on the government and private companies to do more to battle spouse unemployment in the same way they did to beef up the hiring of veterans.
"Military spouses are faced with unique challenges in starting and maintaining a career as a result of the military lifestyle they lead that requires frequent moves and sometimes being the single parent while their military spouse is deployed," said Marine Lt. Col. Gabrielle Hermes, a Pentagon spokeswoman.
Defense Department data from surveys comes up with different numbers, finding that 23 percent of military spouses identify themselves as unemployed.
According to the study, the estimated cost of the problem is largely borne by the federal government, including unemployment and health care benefits and lost income taxes. The study estimated that those costs ranged from about $710 million to $1.07 billion per year.
There has been increased attention on veteran and military-related unemployment issues over the past decade, particularly as service members came home from repeated deployments to Iraq and Afghanistan and found it difficult to find jobs after they left the military. That focus has also expanded to spouses, who often find themselves moving every two or three years and often can't find jobs that are flexible enough to compensate for the long hours, absences and irregular schedules of their spouses while still meeting any child care needs.
The study found that getting meaningful employment is a major concern for spouses. And more than half of them say that having a spouse in the military has a "negative effect" on their ability to find a job that meets their education and experience levels.
As of 2015, there were about 564,000 female civilian spouses of active duty military members nationwide, and 70 percent of them were under the age of 35.
The Pentagon and military services have a number of websites and jobs programs, including ones aimed at military spouses. The Military Spouse Employment Partnership has job listings, resume tips, career counseling and other assistance. According to the Defense Department, partner employers have posted more than 4 million jobs in the past five years.
The Joining Forces initiative launched by First Lady Michelle Obama and Jill Biden in 2011 has helped more than 1.2 million veterans and spouses get hired or trained, according to numbers announced earlier this month. Of those, Hermes said that about 95,000 were military spouses.
Another program provides up to $4,000 in scholarships to eligible spouses to pursue certifications, licenses or other degrees.
Hermes said that the department is assessing the effectiveness of the programs, adding that getting information about them can be a challenge especially when so many military spouses transition out of the military every year and new spouses join. She said the department relies on experts who work for the military services as well as other organizations, employers and communities, to help get the word out.
To Learn More:
Food Stamp Use among Military Families Hits Record High (by Steve Straehley, AllGov)
Army Wives Group Denies Membership to Lesbian Wife (by Matt Bewig, AllGov)