Harm to Iraqi and Afghan Civilians from U.S. Military Burn Pits Largely Ignored by Mainstream Media
Tuesday, October 20, 2015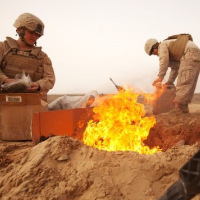 U.S. Marines destroying trash in burn pit in Afghanistan (photo: Cpl. Alfred V. Lopez, U.S. Marine Corps)
The U.S. military's use of burn pits in Iraq and Afghanistan to dispose of solid waste exposed civilians as well as soldiers to toxic fumes, but you wouldn't know it from media accounts, according to a new study.
In a paper (pdf) published in the journal Environmental Politics, University of Mary Washington assistant professor of sociology Eric Bonds says the mainstream media in the U.S. routinely failed to mention the potential effects of burn pits on Iraqis and Afghans. Instead, the coverage almost always focused on the harm to U.S. service men and women.
The uncontrolled burning of plastics, Styrofoam, electronics, unexploded weapons, and other materials released toxins and particulate matter into the air, causing serious health problems for military personnel, according to numerous stories produced from 2007 to 2014.
Bonds looked at 49 stories and found only five "made passing reference to civilian impacts, and one story mentioned potential impacts to civilians on par with impacts to soldiers." But, "the vast majority of news stories made no mention that Iraqi and Afghan civilians might also have been harmed by the U.S. military's burning of waste," he wrote.
Civilians affected would have included those living on farms and in towns located near Balad Air Base in Iraq and Shindad Air Base in Afghanistan, as well as many other bases in the two countries.
Bonds also noted that "when journalists describe the pollution itself, how it billowed over military bases and covered living quarters with ash and soot, such accounts never mention that this pollution would not have stopped at the cement barricades and concertina wire at base boundaries, but must have also settled over civilians' homes and the surrounding landscapes."
-Noel Brinkerhoff
To Learn More:
Study Reveals Corporate Media's Refusal to Acknowledge Civilian Victims of U.S. Wars (by Sarah Lazare, Common Dreams)
Media: Is the U.S. Ignoring Military Burn Pits' Harm to Middle East Civilians? (by Brian Bienkowski, Environmental Health News)
A New Generation's Agent Orange: The Waste of War in Iraq & Afghanistan (Burn Pit Claims)
Legitimating the Environmental Injustices of War: Toxic Exposures and Media Silence in Iraq and Afghanistan (by Eric Bonds, Environmental Politics) (pdf)
U.S. Waste Disposal in Afghanistan: Unused Incinerators and Open-Air Burn Pits (by Noel Brinkerhoff and Danny Biederman, AllGov)
The Faceless Enemy in Iraq and Afghanistan that Has Harmed U.S. Vets: Burn Pits (by Noel Brinkerhoff, AllGov)
Burn Pits: the Agent Orange of the Wars in Iraq and Afghanistan (by Noel Brinkerhoff, AllGov)