Georgia Legislation Legalizing Guns on College Campuses Gains Momentum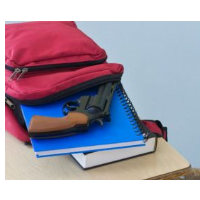 (photo: Getty Images)
By Janel Davis, New York Times
ATLANTA -- If an armed stranger tries to rob a student in Georgia State University's library next fall, he could confront a person packing his own gun.
People at public colleges in Georgia could carry handguns in most areas on campus, including classrooms, cafeterias and libraries, if a proposed law passes this month.
Higher education institutions have been one of the last places off limits for guns, due to staunch opposition by the state's Board of Regents, which oversees Georgia's 29 public colleges and universities. Momentum toward changing that has increased this year because of national high profile campus shootings and violent crimes, other states passing concealed carry laws and armed robberies at Georgia colleges.
A day after "campus carry" legislation was filed this year, two armed robberies occurred inside Georgia State's library. Some gun-friendly lawmakers have used those incidents, and other violent robberies at Georgia Tech, blocks away from the state Capitol, to argue the change would allow students to protect themselves.
"When I wake up in the morning, headed to campus for a 7 a.m. class and get an email that there's been an armed robbery on campus ... I'm a pretty pro-choice person," said Anyssa Williams, 20, a Georgia State University senior. "I think everyone should have the right to choose the decisions they want to make for themselves."
The issue has divided students, with classmates on both sides of the issue lobbying lawmakers, signing petitions and speaking out on social media. Faculty members have publicly opposed the measure, choosing to follow the lead of their school presidents, the chancellor and regents.
Concerns from college officials that guns on campus would be dangerous for students and faculty and costly for schools are being countered by gun rights advocates and gun-friendly lawmakers with the mantra that the only thing that stops a bad guy with a gun is a good guy with a gun.
Nationally the tide is turning on campus carry. What once was either restricted at the state level, or left to individual campuses to decide, is increasingly allowed through legislation. Georgia seems to be headed in this direction, although questions remain about whether guns on campuses make them safer, and details such as how the measure would be implemented are yet to be sorted out.
Changing Times
The expanded gun rights proposal, dubbed the "Campus Safety Act," would allow anyone 21 or older with a weapons license to carry a gun anywhere on a public college or university campus, except for inside dormitories, fraternity and sorority houses, and at athletic events. It also would mandate that the weapons be concealed, which adds a layer of safety, proponents say. Concealed carry permits require fingerprinting and background checks.
The state House, with a Republican caucus protective of gun-ownership rights, passed the measure, House Bill 859, by a 113-59 vote last month, putting pressure on a Senate committee that could vote on it as early as this week. The bill already has support from powerful lawmakers, including leaders of both chambers of the Legislature and Gov. Nathan Deal, who rebutted claims last week that the legislation would be harmful to colleges.
If approved, Georgia would become the ninth state to allow concealed carry on college campuses, according to the National Conference of State Legislatures. Texas most recently passed legislation that takes effect in August. Twenty-three other states allow individual schools to decide on a campus-by-campus basis. Nineteen states deny campus carry.
In some states, colleges have sought to circumvent or limit the law. Private institutions in Texas quickly opted out of the provision, which was allowed there. The University of Texas president reluctantly approved rules last month allowing campus carry in classrooms, but not in dorms. The University of Colorado held off implementing campus carry until forced to by a court in 2012, after students filed a lawsuit.
Legislative Uncertainty
There are still unanswered questions about how the law would work in Georgia. The legislation, sponsored by Rep. Rick Jasperse, R-Jasper, and Rep. Mandi Ballinger, R-Canton, does not address how guns would be stored for students living in campus housing, for example. Also unclear is whether schools could create some limitations, such as designating classrooms as gun-free zones. Other states have done that.
Some of those issues, as well as a training requirement for gun carriers similar to that mandated in Colorado, could be added by Georgia's Senate.
If the law passes in Georgia, there could be pushback from faculty, as happened in Texas. Hundreds of faculty members there have signed petitions vowing to ban firearms in their classrooms. A longtime dean of the University of Texas at Austin's school of architecture notably resigned from the institution partly because of his concern over campus carry this year.
Already, Georgia's University System presidents have opposed the legislation, and faculty at some institutions have passed resolutions against it.
"The same legislature that would say it's OK to have students come to class with guns is the same legislature what would not allow guns in the Capitol," said Juone Brown, a tenured professor at Fort Valley State University who has taught for 17 years in the state's University System. Brown is also chairwoman of the University System's Faculty Council, but her comments come "as a taxpaying faculty member."
"If it's unsafe for the people considering the legislation, how is it safe for classrooms?" she said. "It's just a bad idea."
Differing Viewpoints
The push for campus carry in Georgia has been years in the making as gun expansion bills have chipped away at firearms restrictions supporters said violated Second Amendment rights. Lawmakers got close in 2014, but the state Senate -- with heavy lobbying from the powerful University System -- stripped a campus carry provision from broader gun expansion legislation, called the "guns everywhere bill."
The bill that passed did allow for licensed owners to keep guns in their vehicles on campus. Opponent's dire concerns of violence or accidental shootings have not occurred.
"There hasn't been a single professor shot or injured with a firearm because they gave someone a bad grade and a person went to their car and got a gun," said Jason Stubbs, a former Columbus State University student, now state director of Georgia Students for Concealed Carry on Campus. "All the arguments the opposition is putting forward have been the same, and it hasn't happened yet."
What has happened is prominent shootings by armed gunmen at campuses in places including Arizona and Oregon, where nine were killed and nine others wounded last fall. Memories of other notable shootings, such as at Virginia Tech in 2007, are also fueling efforts to allow guns to be carried on campuses.
Among those testifying at a three-hour hearing last week was Michael Bishop, of Pine Mountain. Over the last several years he has traveled to the Capitol to testify against allowing guns on campus.
Bishop's 35-year-old son, Jaime, was a German instructor at Virginia Tech and died in the 2007 shootings. It has been hard to hear lawmakers supportive of the idea that a licensed gun owner carrying a firearm could've stopped the mass shooting, he said.
Overall, data on the effectiveness of having guns on campus is sparse. Colleges have statistically less crime per capita than other locations, and studies vary as to the likelihood of a person successfully stopping or preventing a crime by using a gun.
"I'm just not confident in the narrative of the responsible gun owner," said Taylor Bennett, 23, a student at Georgia State. "I know a lot of people with permits who carry guns, and they all claim to be responsible citizens, and they have repeatedly let me down," including, Bennett said, one friend "who will throw a big party with drunk people at his house and he's got a Glock on the table."
Thus far, however, the implementation of campus carry in other states has not yielded the major disasters that opponents have warned of, though there have been a number of gun-related incidents including at least six accidental shootings. One Idaho State professor with a concealed carry permit shot himself in the foot two months after that state implemented its campus carry law. No one else in the classroom was injured.
But that hasn't stopped either side from trying to make its case. Gun control groups also cite college suicide statistics as reasons for opposition. School officials also say taxpayer dollars will have to be spent to train campus officers if the bill passes.
Proponents such as pro-gun group Georgia Carry cite crime data that shows an increase in violent crimes over the past five years on campuses, and they argue that is because criminals know that colleges are gun-free zones.
But it is impossible to determine whether arming eligible students would have impacted the numbers.
With the strong support from key lawmakers, the arguments may be moot.
"This bill is going to pass," predicted Georgia Carry board member Ed Stone, and Georgia colleges should get ready.
Staff writers Kristina Torres and Chris Joyner contributed to this report.
To Learn More:
Texas Professors Warn that Gun-Carrying Students May Curtail Academic Discussions (Associated Press)
New Texas Law to Allow Guns in University Classrooms (by Jon Herskovitz, Reuters)
Real Guns Welcome in Texas College Dorms, But Candles, Toasters and Squirt Guns are Banned (by Noel Brinkerhoff and Steve Straehley, AllGov)
20 Teachers and Staff Will Carry Guns When Doors Open to Kids at Arkansas School This Fall (by Danny Biederman and Noel Brinkerhoff, AllGov)