Georgia Bill Allowing Guns on Campus Throws Governor into Second Hot-Button Controversy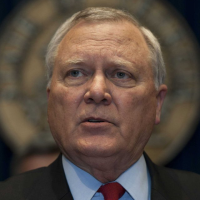 Gov. Nathan Deal (photo: Davis Turner, Getty)
By Greg Bluestein, New York Times
ATLANTA -- Weeks after enraging religious conservatives with his veto of the "religious liberty" bill, Gov. Nathan Deal faces another politically risky decision on whether to legalize firearms at public colleges in Georgia.
His office has fielded hundreds of emails and calls from all sides of the debate over "campus carry" legislation, which would allow anyone 21 or older with a weapons license to carry a concealed gun most places on public college campuses, as a deadline fast approaches for him to make up his mind.
And for Deal, who has repeatedly aired concerns about the legislation, there are no simple answers.
He could shove aside his misgivings and sign the proposal even after legislative leaders rejected his handwritten appeal for changes.
He could veto the measure and widen the rift between him and rank-and-file Republicans still peeved at last month's rejection of legislation that would have extended legal protections to opponents of same-sex marriage.
Or he could try to straddle the divide -- and risk alienating both sides -- with some sort of executive action.
Deal will make his move by Tuesday, the last day of the 40-day bill-signing period.
A second-term governor with no further political ambitions, he has more freedom to defy his party's base with a veto. But doing so would make it even harder for Deal to carry out the linchpin of his second-term agenda: a 2017 push to "revolutionize" how the state's education system is funded.
"Admittedly, it's another tough decision. Would I have preferred they not put that on my plate (without the changes he advocated)? Yes, I would have preferred that," he said in an interview. "But they did. And I have to come, once again, to doing what I think is in the best interest of all the citizens of the state."
Dueling Emails
There's been no lack of pressure from all sides of the debate, both overt and otherwise.
The National Rifle Association, which endorsed Deal's gubernatorial bid, urged that the governor "not bow to elitists who don't support your right to self-defense." GeorgiaCarry.org, another gun rights group, has already vowed a comeback attempt if he does veto the measure.
Gun control advocates have launched social media campaigns urging Deal to reject the measure, staged protests at universities and drafted high-profile opponents. Michael Stipe, REM's frontman, called on the governor to nullify the "dangerous bill." Professors have warned that signing the bill would harm the prestige of top Georgia universities.
An equally bitter battle is raging beneath the surface.
An open records request showed he's received hundreds of letters, emails and phone calls since the bill landed on his desk in late March. Most appear to lean toward him signing the bill, though sprinkled in among the appeals were notes from students and faculty members who objected to the legislation.
"If approved, this law would result in those of us on campus feeling less safe, not more safe," read a resolution sent to Deal by the Faculty Senate at Georgia State University's Perimeter College.
Nancy Jo Kirk, a senior lecturer who teaches chemistry at Kennesaw State University, warned it could deter top-notch professors fearful of campuses "potentially filled with hidden guns."
"How are we going to entice the best faculty to our universities, inspiring mentors that students in the state of Georgia deserve?" she asked.
Yage Wen, a first-year statistics major at the University of Georgia, said the measure would spark "paranoia, anxiety, fear and many other psychological disorders in many students" who are uneasy with the gun rights expansion.
They were countered by a torrent of messages in favor of the law, including dozens of one-sentence messages voicing support.
Many echoed the note from Dean Miller of Buford, who said Deal should resist the pressure from "out-of-state operations" from Everytown for Gun Safety, the group backed by former New York Mayor Michael Bloomberg that ran ads urging a veto.
Charles Saunders, a Suwanee gun owner, said students and teachers should "not be prevented from exercising their right to self-defense simply because they choose to seek a college education."
And Eric Flint was one of several Georgia Tech students who chimed in with support for the measure. He wrote that college campuses "would be much safer if law-abiding citizens" with gun permits could carry their weapons on campus.
'No easy option'
Gun rights groups have long pressed for the measure, depicting it as a safeguard for students and faculty to protect themselves. And each year it was blocked at the urging of critics, including influential campus presidents, who warned it would increase the likelihood of violent shootings.
Election-year politics changed the dynamic this time. The behind-the-scenes admonitions from the powerful Board of Regents and other critics fell flat as leaders of both legislative chambers embraced the measure.
Deal, who initially downplayed concerns that the legislation would lead to a "Wild West scenario," sent an unusual written appeal to House Speaker David Ralston and Lt. Gov. Casey Cagle for changes.
Soon after the bill was passed, he asked them to exempt on-campus child care centers, faculty and administrative office space, and disciplinary meetings and other hearings from the gun rights expansion.
He was rebuffed by House Speaker David Ralston and other supporters of the measure, who said carving out additional exceptions risked gutting the intent of the law. They noted that they already agreed to other exceptions that restricted weapons in dormitories, fraternities and sorority houses, and at sporting events.
That's left Deal to grapple with the political implications of his choice. He's already incensed religious conservatives with his "religious liberty" veto. Now he faces the prospect of alienating Second Amendment groups and other conservative activists who have pushed for years for the change.
He also has some other routes. He could do nothing with the bill and let it automatically become law after 40 days, but that's considered a very unlikely prospect. He could also pair a potential veto with an executive order requiring the Board of Regents to loosen its firearms restrictions, though that could raise a host of legal objections.
"There's no easy option," Deal said.
To Learn More:
Texas Professors Warn that Gun-Carrying Students May Curtail Academic Discussions (Associated Press)
New Texas Law to Allow Guns in University Classrooms (by Jon Herskovitz, Reuters)
Real Guns Welcome in Texas College Dorms, But Candles, Toasters and Squirt Guns are Banned (by Noel Brinkerhoff and Steve Straehley, AllGov)
20 Teachers and Staff Will Carry Guns When Doors Open to Kids at Arkansas School This Fall (by Danny Biederman and Noel Brinkerhoff, AllGov)