Genetically Modified Crops in U.S. Fail to Deliver on Promise of Greater Crop Yield and Diminished Pesticide Use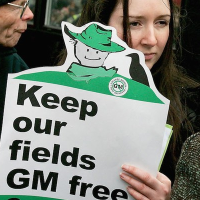 (photo: Graeme Robertson, Getty Images)
By Danny Hakim, New York Times
LONDON — The controversy over genetically modified crops has long focused on largely unsubstantiated fears that they are unsafe to eat.
But an extensive examination by The New York Times indicates that the debate has missed a more basic problem — genetic modification in the United States and Canada has not accelerated increases in crop yields or led to an overall reduction in the use of chemical pesticides.
The promise of genetic modification was twofold: By making crops immune to the effects of weedkillers and inherently resistant to many pests, they would grow so robustly that they would become indispensable to feeding the world's growing population, while also requiring fewer applications of sprayed pesticides.
Twenty years ago, Europe largely rejected genetic modification at the same time the United States and Canada were embracing it. Comparing results on the two continents, using independent data as well as academic and industry research, shows how the technology has fallen short of the promise.
An analysis by The Times using U.N. data showed that the United States and Canada have gained no discernible advantage in yields when measured against Western Europe, a region with comparably modernized agricultural producers like France and Germany. Also, a recent National Academy of Sciences report found "there was little evidence" that the introduction of genetically modified crops in the United States had led to yield gains beyond those seen in conventional crops.
At the same time, herbicide use has increased in the United States, even as major crops like corn, soybeans and cotton have been converted to modified varieties. And the United States has fallen behind Europe's biggest producer, France, in reducing the overall use of pesticides, which includes both herbicides and insecticides.
One measure, contained in data from the U.S. Geological Survey, shows the stark difference in the use of pesticides. Since GM crops were introduced in the United States two decades ago for crops like corn, cotton and soybeans, the use of toxins that kill insects and fungi has fallen by a third, but the spraying of herbicides, which are used in much higher volumes, has risen 21 percent.
By contrast, in France, use of insecticides and fungicides has fallen 65 percent and herbicide use has decreased 36 percent.
To Learn More:
Monsanto Recruited Scientists to Write about Benefits of GMOs (by Noel Brinkerhoff, AllGov)
Pesticide Companies Use Clever Loophole to Avoid Regulation of Genetically Modified Grass (by Noel Brinkerhoff, AllGov)
Your Tax Dollars at Work…State Dept. Lobbies Abroad for Monsanto Biotech Seeds (by David Wallechinsky and Noel Brinkerhoff, AllGov)