For the First Time, USDA Approves Fruit Genetically Engineered for Aesthetic Reasons
Friday, February 20, 2015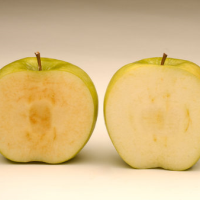 A normal sliced apple next to a pristine genetically modified one (photo: Okanagan Specialty Fruits)
The U.S. government has decided that genetically engineered foods are good to have just because they look better than what Mother Nature creates.
In the first decision of its kind, the U.S. Department of Agriculture (USDA) has approved a type of GMO apple that doesn't turn brown from bruising or slicing.
Arctic Apples by Okanagan Specialty Fruits will now be sold in stores—and without any labeling informing consumers that the apples' DNA has been altered.
The USDA decided to commercialize Arctic Apples despite receiving "73,000 comments that overwhelmingly opposed the commercialization" decision, according to the Corporate Crime Reporter.
Both apple industry officials and food-safety advocates criticized the decision. Some believe it could hurt the "wholesome image of the fruit that reputedly 'keeps the doctor away,'" as well as damage exporting of apples to countries that reject foods that have been genetically modified, according to The New York Times.
"In the marketplace we participate in, there doesn't seem to be room for genetically modified apples now," John Rice, co-owner of Rice Fruit Company, a major apple packer in the East, told the Times.
Wenonah Hauter, executive director of Food & Water Watch, a frequent critic of GMO foods, told the Corporate Crime Reporter that the USDA "neglected to look at the full range of risks from these apples. In its environmental assessment, the USDA glossed over the possibility of unintentional effects associated with the technology used to engineer these apples, potential economic impacts on the U.S. and international apple market, effects of potential contamination for non-GMO and organic apple growers and the impact of the non-browning gene silencing which also can weaken plant defenses and plant health."
-Noel Brinkerhoff
To Learn More:
USDA Approves GMO Apples Despite Opposition from Apple Industry and Consumers (Corporate Crime Reporter)
Gene-Altered Apples Get U.S. Approval (by Andrew Pollack, New York Times)
U.S. to Deregulate Arctic® Apples! (by Neal Carter, Okanagan Specialty Fruits)
Maui Votes to Halt Genetically Modified Crop Cultivation; Monsanto and Dow Sue (by Noel Brinkerhoff, AllGov)
Will New Genetically-Modified USDA-Approved Potato Gain Respectability? (by Noel Brinkerhoff and Steve Straehley, AllGov)