Will New Genetically-Modified USDA-Approved Potato Gain Respectability?
Wednesday, November 12, 2014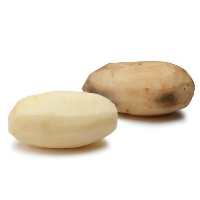 A pristine genetically modified potato next to a normal one (photo: J.R. Siplot Co.)
Federal agricultural regulators have approved a new genetically modified potato for American farmers to grow that's aimed at the fast-food market.
The U.S. Department of Agriculture's (USDA) decision involved the potato identified as Innate, developed by the J.R. Simplot Company, a major supplier to McDonald's. Innate potatoes are manipulated to contain less of the chemical acrylamide, which can cause cancer in people who eat fried potatoes. The GMO potato also is designed to bruise less during harvesting and transport.
Another note about the Innate: it is the first GMO potato approved by the USDA that wasn't created by Monsanto Co., which engineered several new kinds of potatoes in the 1990s to resist pests and disease, according to Reuters. Those potatoes never gained popularity and eventually Simplot and other growers stopped using them.
The New York Times' Andrew Pollack noted that the USDA's decision "comes as some consumers are questioning the safety of genetically engineered crops and demanding that the foods made from them be labeled. Ballot initiatives calling for labeling were rejected by voters in Oregon and Colorado this week, after food and seed companies poured millions of dollars into campaigns to defeat the measures."
Simplot is hoping the Innate potatoes might face less pushback than previously marketed genetically modified versions. One reason is the modifications are meant to solve a human health problem, rather than fight farm pests. Second, the modifications are done using potato DNA, rather than introducing other species such as bacteria to the potato.
Food safety advocates aren't convinced, however. "We think this is a really premature approval of a technology that is not being adequately regulated," Doug Gurian-Sherman, a plant pathologist and senior scientist at the Center for Food Safety, told the Times. He said his group might fight the potato approval in court.
-Noel Brinkerhoff, Steve Straehley
To Learn More:
U.S. OKs Genetically Modified Potato with Lower Cancer Risk (by Ros Krasny, Reuters)
USDA Approves Modified Potato. Next Up: French Fry Fans (by Andrew Pollack, New York Times)
Big Food Companies Push to Label Genetically Modified Products as "Natural" (by Noel Brinkerhoff, AllGov)
State Dept. Aggressively Pushed Genetically-Modified Crops to Help Agribusiness Giants (by Noel Brinkerhoff and David Wallechinsky, AllGov)