FEMA Uses "Secret Rules" for Determining Disaster Aid, Claims Federal Lawsuit
Monday, September 19, 2016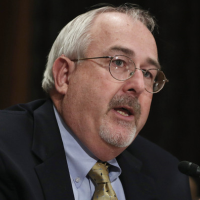 FEMA Administrator Craig Fugate (photo: Alex Wong, Getty Images)
By Britain Eakin, Courthouse News Service
WASHINGTON (CN) — Dozens of Texas storm victims claim in a federal lawsuit that the Federal Emergency Management Agency uses secret rules to decide who it gives disaster aid to, and how much.
The low-income disaster victims, spanning four Texas counties, say the agency denied all or part of their repair-assistance requests after storms in 2015 and 2016 damaged their homes.
The 26 plaintiffs allege FEMA did not disclose the standards it relied upon to deny them disaster assistance.
Despite a Congressional mandate for the agency to issue regulations outlining eligibility, "nobody outside FEMA can discern how FEMA decides eligibility for disaster assistance," the 23-page complaint states.
"FEMA has repeatedly refused to publish thousands of pages of its internal policy manuals, which explain how FEMA decides eligibility for disaster assistance," according to the lawsuit, which was filed Thursday in Washington, D.C. Federal Court.
Since 2002, Congress has appropriated more than $125 billion in FEMA disaster assistance for some 800 presidentially declared disasters, the plaintiffs say.
According to the complaint, the agency's public policy directives have long been acknowledged as inadequate.
"Courts, FEMA, and DHS agree that FEMA's disaster assistance publications are of poor quality," with one judge describing its eligibility criteria as "Kafkaesque," the complaint states, abbreviating the U.S. Department of Homeland Security.
Jerome Wesevich, lead attorney for the plaintiffs, says the agency has a good reason to conceal them.
"The reason FEMA's rules are secret is that it would be embarrassing if it had to publish them," Wesevich said in an interview. "If people knew what rules FEMA was applying they would be outraged."
He added, "They don't want people to know how crazy their rules are. They want to present a facade that they are helping people recover from disaster. But internally and in secret they have a complex set of standards that deny people assistance."
The FEMA criteria governing its Individuals and Households Program, which oversees disaster assistance, requires applicants to prove home ownership, that repairs are necessary to restore habitability and that the disaster caused the damage.
But FEMA does not disclose how it determines what damage is disaster related, and its habitability regulations are so broadly defined as to render them ineffective at informing the public of how it assesses habitability, the complaint states.
"FEMA's IHP policies are contained in thousands of pages of memoranda, manuals, guidelines, standard operating procedures, numbered policy catalogues, and agency directives," the complaint states, abbreviating the Individuals and Households Program. "Some of FEMA's IHP policies are marked secret, for agency internal use only, and not for public release."
According to the lawsuit, the agency has never published its IHP policies in the federal register.
Moreover, the agency uses impossible standards or proof for determining damage, and leaves homeowners in the dark about things the agency will never provide assistance for, Wesevich claims.
"FEMA has said in past disasters that it will only decide that damages are disaster-related if the relationship between the disaster and the damage is 'significant, obvious, and without question,'" Wesevich said. "So this puts an impossible standard of proof on proving disaster-related damages. But the worst part is that they won't tell people this."
Wesevich says he has seen some of the agency's "embarrassing" internal policies in related litigation.
"FEMA has a secret rule, and we know this because in other lawsuits we've found these out, that it will only pay to repair a fence if the owner proves a 'serious need' for the fence. However, it will never pay for swimming pool fences, period," he said.
Wesevich added, "The main type of danger of course to a child where there's a swimming pool, is that they would get in there and drown."
Wesevich has been involved in similar litigation stemming from Hurricane Dolly in 2008, which is pending in Southern Texas Federal Court.
In that case, he says the court decided FEMA had violated the Administrative Procedure Act by using a secret rule preventing inspectors from recording damages as disaster-related, unless the relationship between the damage and the disaster is "significant, obvious, and without question," he said.
The court has not ordered relief for the plaintiffs in that case, he noted.
"I don't have any relief for them. It's really sad. There's people who need assistance but the relief part is still pending before the court," he said.
Wesevich says he filed Thursday's complaint in the D.C. District Court because he believes the court will resolve the issue more expediently, and because the court has more experience holding federal agencies accountable.
He says he hopes the outcome will produce greater transparency from the agency about its disaster-assistance eligibility criteria.
We think that more transparency will mean fairer standards, particularly for poor people. The quality of the standards is tied to the transparency," he said. "They need to come clean."
Nonprofit La Union del Pueblo Entero, which advocates for the rights of low-income families, joined the 26 homeowners as a plaintiff in the lawsuit.
FEMA did not respond Friday to an emailed request for comment.
To Learn More:
Inspector General Finds Bush-Era FEMA Paid for Hurricane Damage Covered by Private Insurer (by Danny Biederman and Noel Brinkerhoff, AllGov)
What's the Hurry, Mr. President? Former Bush FEMA Director—Who Did a "Heckuva Job" with Katrina—Slams Obama for Quick Sandy Response (by Noel Brinkerhoff, AllGov)
FEMA Chief of Staff's Conflict of Interest (by Noel Brinkerhoff, AllGov)