Inspector General Finds Bush-Era FEMA Paid for Hurricane Damage Covered by Private Insurer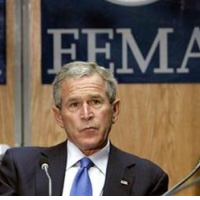 President George W. Bush at FEMA briefing on Hurricane Rita, 2005 (photo: Ron Edmonds, AP)
When hurricanes struck during the years of the George W. Bush administration, the term "disaster" was also occasionally applied to the government's sluggish responses, with criticisms leveled at both Bush himself and the Federal Emergency Management Agency (FEMA). But now it appears that while FEMA was sometimes slow to act, it was also a little too enthusiastic in paying for damages that a private insurance company could and should have covered.
The inspector general for the Department of Homeland Security (DHS), which oversees FEMA, reviewed a sampling of the thousands of claims that were filed after seven hurricanes (Charley, Frances, Ivan, Jeanne, Dennis, Katrina and Wilma) struck Florida in 2004 and 2005.
Auditors found at least $177 million in claims—in those samplings alone—that FEMA paid for that insurance policies could have resolved.
The insurance company responsible for handling the claims was Florida Municipal Insurance Trust, whose services cover more than 600 public entities in the state, according to the Tampa Bay Times. The company was not identified in the IG's report because its focus was limited to FEMA's actions regarding the hurricane disasters.
A lawyer for the Florida League of Cities, of which the insurance company is a member, told the Times that all legitimate claims have been paid.
The report (pdf) says the IG's office can't really be sure just how many millions of taxpayer dollars were spent unnecessarily by FEMA because the agency's insurance reviewers failed to properly document their decisions. The $177 million figure could actually be much higher because it was based on just a sample of 2,088 projects in question. The report suggests that FEMA make an effort to recoup those funds from the insurer.
The seven hurricanes collectively resulted in $4.4 billion in payments to aid local governments in their recovery efforts.
FEMA's mistakes may, in fact, continue to cost taxpayers money because it also "improperly waived the need for communities to buy insurance to protect against future disasters," Chris Adams wrote at McClatchy. These additional errors could put the federal treasury on the hook for another $1 billion in damages from future hurricanes.
Additionally, the IG warned that FEMA's improper insurance payouts may be occurring in other states because some of the people responsible for the Florida mishap have gone on to perform insurance work on other natural disasters. Among them is 2012's Hurricane Sandy, which left a trail of destruction through multiple states, including New York and New Jersey.
-Danny Biederman, Noel Brinkerhoff
To Learn More:
Audit: FEMA Mishandled Payments After 2004, 2005 Florida Hurricanes (by Chris Adams, McClatchy)
FEMA Overpaid $177M on Hurricanes (by Jesse Byrnes, The Hill)
FEMA Insurance Reviews of Applicants Receiving Public Assistance Grant Funds for 2004 and 2005 Florida Hurricanes Were Not Adequate (Department of Homeland Security, Inspector General) (pdf)