Federal Judge Slams Texas Prison for Inmates' Forced Drinking of Arsenic-Laced Water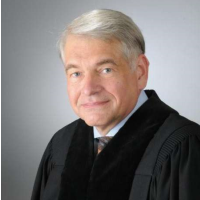 Judge Keith Ellison
By Cameron Langford, Courthouse News Service
HOUSTON (CN) — Texas must find a new source to replace the arsenic-laced water a prison tells elderly and disabled inmates to drink 2 gallons of on hot days, a federal judge ruled.
"The Supreme Court has stated that the Constitution 'does not mandate comfortable prisons' but neither does it permit inhumane ones," U.S. District Judge Keith Ellison wrote Tuesday, citing Rhodes v. Chapman, a 1981 case where the court granted Ohio prisoners an injunction against overcrowded cells.
Ellison granted the 1,400 inmates at the Wallace Pack Unit — a minimum-security prison in Navasota that houses disabled, sick and elderly prisoners — an injunction against the drinking water that prison officials admit has exceeded federal standards since 2006.
The U.S. Environmental Protection Agency reduced the acceptable level of arsenic from 50 parts per billion to 10 ppb in 2001 and began enforcing it in 2006.
"It is undisputed that, since 2006, the drinking water at the Wallace Pack Unit has contained between two and four-and-a-half times the amount of arsenic permitted by the EPA," the order states.
Prison officials testified during hearings in late May and June 1 that the state plans to install a water-filtration system at the Pack Unit in 2017 to replace the one that hasn't worked since it was installed in October 2007.
That's not soon enough, Ellison said, because arsenic exposure raises the inmates' cancer risk and the prison does not have air-conditioning in inmate housing areas, so officials recommend that the inmates, many of whom suffer from health problems and take medication that make them heat-sensitive, drink lots of water to fend off heat stroke.
The ruling is the second victory in as many weeks for seven Pack Unit inmates who filed a class action in June 2014 over the lack of air-conditioning they say amounts to cruel and unusual punishment.
Ellison certified a class action of all current and future Pack Unit inmates on June 14 and two subclasses for disabled and heat-sensitive prisoners.
"At least 20 prisoners have died indoors in non-air-conditioned TDCJ prisons from hyperthermia since 1998. ... Ten inmates died of heatstroke in 2011 while in TDCJ custody," the June 21 order states.
The heat index on June 22 in Navasota, 70 miles northwest of Houston, reached 105 degrees Fahrenheit, according to the National Weather Service.
Multiple scientific articles have shown that the danger posed by heat to a population increases sharply when the heat index exceeds a threshold of approximately 88° F," according to the order.
Ellison ordered the Texas prison system to provide EPA-compliant water from "whichever source and in whatever manner it deems best" by July 7 until Sept. 22, the hottest time of the year.
The Texas Department of Criminal Justice said it would appeal the order.
To Learn More:
Inspector General Alleges Racism and Abuse at High Desert State Prison (by Ken Broder, AllGov California)
Water Company Fined for Sending Arsenic-Laced Sludge to Monterey County Landfill (by Ken Broder, AllGov California)
Texas Gov. Perry Refuses to Comply with Federal Prison Rape Elimination Law (by Noel Brinkerhoff, AllGov)
"Model" Private Prison Slammed for Poor Conditions (by Noel Brinkerhoff, AllGov)
Texas Pays for Private Prisons while Thousands of Beds in Public Prisons are Empty (by Matt Bewig, AllGov)