Federal Judge Orders Justice Dept. to Turn over Secret Phone Surveillance Files
Monday, December 26, 2016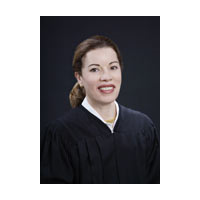 Judge Maria-Elena James
By Nicholas Iovino, Courthouse News Service
SAN FRANCISCO (CN) — A federal judge Thursday ordered the Department of Justice to give her files on a secret telephone data-mining program so she can determine if it can withhold the records from the public.
The Electronic Frontier Foundation sued the Department of Justice in July 2015 after it refused to release files on the Hemisphere Project. The secret program, revealed in a New York Times article in September 2013, involved placing AT&T employees in law enforcement agencies to track records on trillions of phone calls dating back to 1987.
U.S. Magistrate Judge Maria-Elena James found Thursday that the government failed to justify a slew of Freedom of Information Act exemptions it cited to avoid revealing details of the clandestine project. She ordered the Justice Department to deliver the files for her to review behind closed doors.
Electronic Frontier Foundation attorney Aaron Mackey said he was "very pleased with the court's decision today and are optimistic that its review of the documents will demonstrate or show that the government's withholdings are unjustifiable and hopefully order the release of documents that have been withheld."
The Justice Department cited two FOIA exemptions: Exemption 5, for attorney-client, work-product and deliberative-process privileges; and Exemption 7, for information that may reveal confidential sources or law enforcement techniques that could help criminals evade prosecution.
In the 36-page ruling (pdf), James found the government often recited elements necessary to establish the exceptions without stating why the records met standards for withholding from the public.
"The government argues the agency's task should not be 'herculean' in providing supporting evidence for its claimed exemptions," James wrote. "But while the government need not expose the very information contained in the withheld documents, here it does not provide the sufficient information for this Court to assess its assertion of privilege. The Court is not asking the government to make a herculean effort, merely something beyond regurgitation of the elements."
The EFF, a civil liberties group focused on technology issues, seeks details on the program's capabilities, processes, law enforcement agencies and telecom companies involved, and cities and states where the program operates.
James rejected the government's position that revealing other telecom firms involved would undermine assurances of confidentiality it gave them when they agreed to participate.
The foundation cited the 1993 Supreme Court ruling in Dept. of Justice v. Landano, which held that an "implied understanding of confidentiality" cannot rest solely on the possibility that a company might face legal action or loss of business for their cooperation with law enforcement.
"Whatever 'express expectation' of confidentiality these private companies may have, the government has provided no indication it ever told these companies their names would be held in confidence," James wrote.
Mackey said that knowing the identities of companies that participated in the program is vital for consumers who want to make informed decisions.
"It's very clear AT&T is not only a willing participant but at the center of this mass surveillance program," Mackey said. "We think it's necessary not only the public knows but customers of these companies know so they can make decisions if they want to keep using the services offered by those companies."
In June this year a federal judge in the District of Columbia ordered the government to release some records on the secretive Hemisphere program.
While James largely agreed with District U.S. Judge Emmet Sullivan's reasoning in that ruling, she diverged on whether emails from a deputy assistant attorney general are covered by attorney-client and work-product privilege exemptions.
Sullivan found that the nature of the program "clearly implicates controversial law-enforcement techniques and privacy rights," making it reasonable to infer that the Justice Department attorney was anticipating the possibility of future litigation when drafting the memos.
But James rejected that argument, finding the government failed to explain "why these particular documents relate to some anticipated litigation."
James also cited the Justice Department's release of a heavily redacted version of a Power Point file to justify her request to review the documents behind closed doors.
James said the government claimed it used "surgical precision" and a word-by-word review in its release and redaction decisions, but "ultimately the vagueness and conclusory nature of the government's supporting evidence as well as the discrepancy between Exhibits 9 and 10 undermines its assertion," James wrote, referring to the inconsistently redacted Power Point files.
Mackey said: "We're hopeful and excited to see that the court's decision today is a good indication we're going to get more information about Hemisphere. We're excited to get that information and publicize it so we continue to have a better idea about this mass surveillance program."
Department of Justice spokesman Abraham Simmons declined comment.
To Learn More:
Electronic Frontier Foundation v. Department of Justice (U.S. District Court, Northern District of California) (pdf)
Forget the NSA; AT&T Helps DEA Collect even more Phone Call Details (by Noel Brinkerhoff, AllGov)
Trail of U.S. Criminal Investigations Altered to Cover up DEA Unit's Role as Data Source (by Noel Brinkerhoff and Danny Biederman, AllGov)