Federal Judge Decries U.S. Surveillance of Occupy Demonstrators, Orders Spy Agencies to Disclose Records
Sunday, November 20, 2016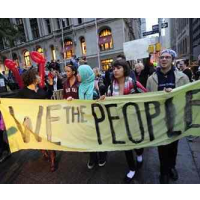 Occupy Wall Street protesters, 2013 (photo: Emmanuel Dunand, AFP/Getty Images)
By Maryclaire Dale, Associated Press
PHILADELPHIA (AP) — A federal judge has ordered the FBI and other federal agencies to turn over any potential evidence they spied on Occupy Philadelphia protesters.
The FBI, CIA and National Security Agency have 60 days to comply with the order from Senior U.S. District Judge Berle M. Schiller. The order follows another right-to-know case that revealed the FBI was monitoring Occupy Wall Street activities in New York and spinoff efforts from Florida to Alaska.
Civil rights lawyer Paul Hetznecker hopes to learn if the agencies surveilled demonstrators who encamped outside Philadelphia City Hall for seven weeks in 2011 to protest income inequality.
The FBI has turned over seven redacted pages in response to his right-to-know lawsuit. The judge plans to review the unredacted FBI document and information from the CIA and NSA to determine if the material should be made public.
Press investigations have shown that federal intelligence agencies have infiltrated Muslim groups, civil rights groups and other lawful organizations since the Sept. 11, 2001 terrorist attacks, Hetznecker argued.
A right-to-know request filed by the Partnership for Civil Justice Fund in 2012 led the FBI to disclose its efforts to monitor Occupy Wall Street activities. The documents released showed the FBI sharing information about Occupy's plans with banks, businesses and local police, even as it acknowledged the protesters' nonviolent mission.
"The government should not be investigating its citizens simply because they've raised their voices in dissent, whether it's against government or corporate policy," Hetznecker said Tuesday.
The U.S. Attorney's Office in Philadelphia, which is defending the government, declined to comment on the pending case. The Philadelphia Inquirer first reported Tuesday on Schiller's order from late last week.
The Occupy Wall Street movement began in New York and spread to cities across the country. The Philadelphia encampment outside City Hall ended when city officials evicted the group to begin a $50 million renovation of the public plaza in late November 2011.
About 80 people arrested during the eviction and other key demonstrations were later acquitted, Hetznecker said. The city this year agreed to pay $200,000 to settle lawsuits filed by some of those arrested.
To Learn More:
Obama Administration Spent a Fortune Monitoring Occupy Protests, including Flash Mobs and Yoga Classes (by Steve Straehley, AllGov)
U.S. Counter-Terrorism Apparatus is used to Quell Dissent among Americans (by Noel Brinkerhoff, AllGov)
Occupy Wall Street Was Target of FBI Counterterrorism Operation (by Noel Brinkerhoff, AllGov)