Federal Judge Clashes with FHWA over Steel and Iron Exemption to Buy America Rules
Wednesday, December 30, 2015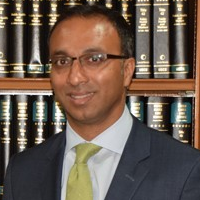 U.S. District Judge Amit Mehta
The Federal Highway Administration's (FHWA) exemption from the "Buy America" policy for steel and iron products hit a roadblock with a federal judge, who told the agency to rewrite it.
FHWA in 2012 created an exemption from Congress' "Buy America" requirements, allowing products containing less than 90% steel or iron to come from a foreign source. It also exempted goods available "off-the-shelf" or that are "necessary to encase, assemble and construct" manufactured products.
The exemption, coming in a two-page memo from Transportation Secretary Anthony Foxx, prompted a lawsuit from the steel industry and a union that claimed the rules violated the Administrative Procedure Act and the Regulatory Flexibility Act (pdf).
Last week, U.S. District Judge Amit Mehta ruled (pdf) in favor of the plaintiffs, writing that FHWA failed to explain the rationale behind its exemption while noting the term "predominately" in a 1997 memorandum about minimal-use exemptions.
"The 2012 memorandum says nary a word about why 90 percent was chosen as the threshold value to mean 'predominately,'" Mehta, who was nominated to the bench by President Obama, wrote. "Not a single word. And defendants' post-hoc efforts to rationalize the choice of that number ring hollow."
-Noel Brinkerhoff
To Learn More:
Buy-America Steel Exemptions Struck Down (by Rose Bouboushian, Courthouse News Service)
FHWA Loses In 'Buy American' Suit over Steel Rules (by Jenna Ebersole, Law360)
United Steel, et al, v. Federal Highway Administration (U.S. District Court for the District of Columbia) (pdf)
Half of Navy Contracts Violate Buy American Rules (by Noel Brinkerhoff, AllGov)
Proposed Obama Trade Agreement would Ban Buy America Laws (by Noel Brinkerhoff, AllGov)