FDA Committee Ties to Drug Industry Underlie Lax Oversight of Controversial Blood-Thinner
Saturday, October 17, 2015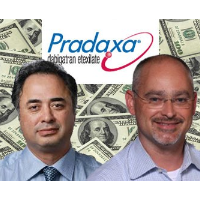 Sanjay Kaul and Darren McGuire (photos: Google Plus, LinkedIn; photo illustration: Steve Straehley, AllGov)
The Food and Drug Administration (FDA) approved a controversial blood thinner for the U.S. market after a review committee of experts with financial ties to the drug industry, including the manufacturer of the drug in question, gave its blessing.
The blood thinner, Pradaxa, made by the German pharmaceutical company Boehringer Ingelheim, won FDA approval in 2010.
The drug has a checkered history, which includes fatal bleeding by patients taking the drug. Unlike with warfarin, an older blood thinner, there are no antidotes available that can be administered when Pradaxa users start bleeding uncontrollably.
Boehringer Ingelheim agreed to pay $650 million to settle about 4,000 lawsuits in state and federal courts filed by patients and their families who claimed the company failed to properly warn them that Pradaxa caused life-threatening and sometimes fatal bleeding.
A review (pdf) of the FDA's approval process by the Project on Government Oversight shows the panel of doctors who unanimously approved Pradaxa had "extensive ties to the pharmaceutical industry. Two went on to receive substantial compensation from the maker of Pradaxa."
Texas cardiologist Darren McGuire was on the committee that approved Pradaxa. Three years later, McGuire disclosed for a medical journal that he received "personal fees from Boehringer Ingelheim." The disclosure also noted that McGuire received compensation from several other drug companies. But Boehringer Ingelheim was a big sugar daddy to McGuire, paying him between $75,000 and $134,994 over a three-year period, according to his financial disclosure form.
Advisory committee member Sanjay Kaul, a medical professor at UCLA and cardiologist at Cedars-Sinai Medical Center, also received payments from Boehringer Ingelheim in 2013 totaling more than $21,000, according to POGO. The following year Kaul received almost $75,000 from Boehringer Ingelheim Pharma and Boehringer Ingelheim International.
-Noel Brinkerhoff, Steve Straehley
To Learn More:
Drug Problems: Dangerous Decision-Making at the FDA (Project on Government Oversight) (pdf)
FDA was 'Lax' and Kowtowed to Drugmaker in Review of Controversial Blood Thinner, Watchdog Says (by Lisa Rein, Washington Post)
Investigation Reveals FDA Was 'Lax' In Approving Blood Thinner Pradaxa (by Amy Nordrum, International Business Times)
Obama's Nominee for FDA Chief Scrutinized for Ties to Big Pharma (by Noel Brinkerhoff, AllGov)
Loopholes and Weak Enforcement Lead to Unapproved Chemicals Added to Foods (by Noel Brinkerhoff and Danny Biederman, AllGov)
FDA Panel Judging Bayer Contraceptive Risk Had Ties to Bayer (by David Wallechinsky and Noel Brinkerhoff, AllGov)