Obama's Nominee for FDA Chief Scrutinized for Ties to Big Pharma
Wednesday, October 14, 2015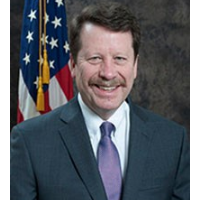 Dr. Robert Califf
The new head of the Food and Drug Administration (FDA) selected by President Barack Obama has very close ties to the pharmaceutical industry.
Dr. Robert Califf, an FDA deputy commissioner and cardiologist at Duke University, has had considerable dealings, including financial ones, with drug manufacturers, whose products must be approved by the agency he's been tabbed to lead.
"No one who knows him thinks he wants to weaken the regulatory agency he has been chosen to lead," The New York Times reported. "But he has deeper ties to the pharmaceutical industry than any FDA commissioner in recent memory, and some public health advocates question whether his background could tilt him in the direction of an industry he would be in charge of supervising."
The multi-million dollar research center at Duke that Califf ran before joining the FDA received more than 60% of its funding from Big Pharma. In addition, Califf has collected consulting fees from drug makers such as Eli Lilly, Merck and Novartis, although he has donated those fees to non-profits since the mid-2000s.
Califf also drew scrutiny for the "highly unusual" step of removing his name from a series of scientific papers concerning the FDA's oversight of clinical trials, according to the Boston Globe. The move "could raise ethical concerns," the Globe's Sheila Kaplan wrote, particularly since Califf was the "driving force behind the series."
The study examined "pragmatic" clinical trials, which some believe more closely replicate real-world conditions. Parts of the papers are critical of the FDA and recommend potentially divisive changes. One of the study's co-authors told the Globe that the FDA asked Califf to remove his name.
Daniel Carpenter, a Harvard political science professor, told the Times: "In a sense, he's the ultimate industry insider."
-Noel Brinkerhoff
To Learn More:
Sanders Opposes FDA Chief Nominee Over Ties to 'Greedy' Big Pharma (by Nadia Prupis, Common Dreams)
FDA Official Took Name off Papers (by Sheila Kaplan, Boston Globe)
FDA Nominee Califf's Ties to Drug Makers Worry Some (by Sabrina Tavernise, New York Times)
Commercial Relationships Tracking Form: Robert Califf (Duke Clinical Research Institute, Conflict of Interest Disclosure Statements) (pdf)
Is Revolving Door between FDA and Supplements Industry Keeping Dangerous Dietary Aids on the Market? (by Noel Brinkerhoff and Steve Straehley, AllGov)