FBI Admits Elite Forensic Unit Gave "Flawed" Testimony in almost every Hair Analysis Case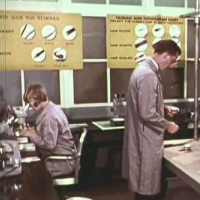 FBI hair analysts shown at work in FBI training film
An elite forensic unit within the Federal Bureau of Investigation (FBI) provided "flawed testimony" regarding hair analysis in nearly all relevant criminal cases reviewed from a period spanning more than two decades.
The review has been ongoing since 2012, when the FBI was alerted to problems with its forensics operation by The Washington Post. So far the agency has found 268 cases involving hair analysis. Of those 268, it was found that FBI examiners gave flawed forensic testimony in 257 of them, or 95% of the time.
All of the flawed testimony favored prosecutors over the defense.
The review also determined that it was not only one or two individuals who continually provided flawed testimony. In fact, 26 of the 28 testifying FBI examiners were at fault.
Those examiners always testified that there was close to 100% certainty of matches between hairs found at crime scenes and those of defendants. Their claims were systematically supported "by citing incomplete or misleading statistics drawn from their case work," according to the Post.
Thirty-two of the tainted cases resulted in the defendants being found guilty and sentenced to death. In 14 of those 32 cases, the defendants were executed or died in prison.
Peter Neufeld, co-founder of the Innocence Project, which is participating in the FBI review along with the National Association of Criminal Defense Lawyers, told the newspaper: "The FBI's three-decade use of microscopic hair analysis to incriminate defendants was a complete disaster."
Senator Richard Blumenthal (D-Connecticut), a former prosecutor, said: "These findings are appalling and chilling in their indictment of our criminal justice system, not only for potentially innocent defendants who have been wrongly imprisoned and even executed, but for prosecutors who have relied on fabricated and false evidence despite their intentions to faithfully enforce the law."
Prosecutors and defendants in 46 states and the District of Columbia are being alerted to the possibility that grounds for appeal may now exist. Four defendants have already been exonerated.
At the outset of its review, the FBI searched more than 21,000 federal and state requests that had been made to its hair comparison unit between the years 1972 and 1999. That search identified about 2,500 cases in which examiners claimed to have found hair matches.
Problems with FBI hair analysis predates the Post's sounding of the alarm by a decade. In 2002, the FBI conducted its own DNA tests and found that its examiners erred with hair matches 11% of the time.
The current discoveries may only be the tip of the iceberg. There are 1,200 cases yet to be reviewed. Furthermore, it has been revealed that the same FBI examiners whose work has now been questioned have provided instruction to up to 1,000 crime lab analysts to testify in the same manner as they did.
- Danny Biederman, Noel Brinkerhoff
To Learn More:
FBI Admits Flaws in Hair Analysis over Decades (by Spencer Hsu, Washington Post)
DNA Testing May Clear Duo in 'Satanic' Murder (by Andrew Wolfson, Courier-Journal)
FBI Ordered to Resume Review of Cases that May be Tainted by Two Decades of Flawed Forensics (by Noel Brinkerhoff, AllGov)
Federal Review Challenges Legitimacy of 27 Death Penalty Convictions based on Hair Analysis (by Noel Brinkerhoff, AllGov)