FBI Accused of Pressuring Members of Islamic Communities in U.S. to Act as Informants
Thursday, November 06, 2014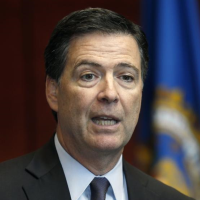 FBI Director James Comey (photo: Mike Groll, AP)
Civil libertarians and Muslim American advocates have criticized the Federal Bureau of Investigation (FBI) for intimidating members of Islamic communities with the intent of turning them into informants.
John M. Glionna of The Los Angeles Times reports that the FBI campaign has stretched across the country, targeting mosques from California to Florida.
Ibrahim Hooper of the Council on American-Islamic Relations (CAIR) said agents approach community leaders at mosques with questions, and then pressure them to become informants.
"For us, the issue is one of civil rights," Hooper said. "Too often these interactions are done in private and people feel coerced. Because ISIS is a hot topic, they're going to mosques. It's all based on the round-up-the-usual-suspects style of law enforcement."
The FBI's approach depends on the situation, according to CAIR lawyer Jennifer Wicks. "These visits aren't based on people being suspected of doing anything wrong. It's because this is a Muslim community. That's why people are being targeted," Wicks told the Times.
In 2011, a Massachusetts man, Ayyub Abdul-Alim, who was on his way home from work, was arrested under questionable circumstances. The FBI asked him to become an informant on the Muslim community for them. Abdul-Alim refused and he's now imprisoned after being convicted of possessing an illegal firearm that might have been planted on him.
CAIR has advised its members, as well as mosque and community leaders, to seek legal advice before talking to the FBI, if approached for questioning. There are concerns that some imams have had their civil rights violated during the FBI's operation.
-Noel Brinkerhoff, Steve Straehley
To Learn More:
U.S. Muslim Leaders say FBI Pressuring People to Become Informants (by John M. Glionna, Los Angeles Times)
How One Man Refused to Spy on Fellow Muslims for the FBI—and Then Lost Everything (by Arun Kundnani, Emily Keppler and Muki Najaer, The Nation)
FBI Accused of Entrapping Muslims; ATF Accused of Entrapping Minorities (by Noel Brinkerhoff, AllGov)
FBI Accused of Using No-Fly List to Recruit Informants (by Matt Bewig, AllGov)
FBI Paid Ex-Con $177,000 to Entrap Muslims (by Noel Brinkerhoff, AllGov)