FBI, 80% of Its Agents White and Male, Loses Women and Minorities from Top Ranks
Tuesday, October 25, 2016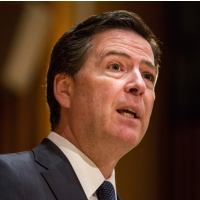 FBI Director James Comey (photo: Andrew Burton, Getty Images)
By Adam Goldman, New York Times
WASHINGTON — When the call came in that a bomb had exploded in Manhattan, Amy Hess helped direct teams of FBI agents to New York to collect evidence, set up secure command posts in the streets, and alerted the digital forensics, fingerprint and facial recognition experts she manages in Quantico, Virginia, site of the FBI academy and its lab. By the next day, she and her team had played a crucial role in identifying Ahmad Khan Rahami, the man charged with planting the bomb along with a second, unexploded device.
"We pulled out all the stops," said Hess, who as head of the bureau's science and technology branch oversees more than 6,000 FBI employees.
Inside the FBI, women in particular look up to Hess. She is the first woman to head the science branch — one of few female agents commanding such an important job at the FBI, a clubby agency where men are more predominant in senior positions than they were even three years ago.
Hess, 50, put it simply: "There is a lack of women in leadership roles."
Today at the FBI, women hold 12 percent of 220 senior agent positions. That is a decline from 2013, when women held about 20 percent of senior agent jobs and 15 women ran field offices.
FBI Director James B. Comey has described the lack of women — and minorities — in the FBI as a serious problem that can undermine investigations and keep the agency out of touch with the communities it serves. Of the bureau's 13,523 agents overall, 2,683 — or about 20 percent — are women. About 83 percent of the agents overall are white.
"The big challenge we've been confronting over the last two years is, how do we get women and people of color" to join the FBI, Comey said Oct. 16 at a conference of police chiefs in San Diego. "That's been our big trouble, and I've described it as a crisis."
In response, the FBI put a plan in place to try to increase the overall number of female agents to 33 percent. The bureau will also soon start providing field offices with recruitment data, something it had never done.
To Learn More:
FBI Diversity Statistics (FBI)
Percentage of Black FBI Agents has Declined over 15 Years (by Noel Brinkerhoff and Steve Straehley, AllGov)