Percentage of Black FBI Agents has Declined over 15 Years
Wednesday, February 18, 2015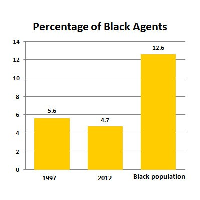 (graphic: Steve Straehley, AllGov)
Last week, Director James Comey of the Federal Bureau of Investigation (FBI) told the law enforcement community in the United States that it needs to do a better of job of healing the rift between police and African Americans. Comey admitted, though, that he must get his own house in order as well.
Comey said following his speech last week at Georgetown University that his agency must address the fact "the FBI is overwhelmingly white and male." He added: "I have to change the numbers."
The agency's diversity statistics show blacks made up only 4.7% of the special agents in 2012, down from 5.6% in 1997. A retired FBI agent, who asked to remain anonymous, told Politico, "It's kind of hilarious that the director of the FBI would be giving local police advice, since the bureau has been dealing with that kind of issue for years. It amazes me how you can give advice, but you don't use the advice you give."
Josh Gerstein at Politico pointed that the total number of African-American agents has "risen slightly in absolute terms — from 611 in 1997 to 652 in 2012" but that "the overall size of the agent corps has grown even faster, particularly as resources were focused on the terrorist threat after the attacks of Sept. 11, 2001."
Comey says he has been trying to hire more persons of color for the FBI. He also has been requiring all new agents and analysts to study how the Bureau treated Dr. Martin Luther King Jr. Then-FBI Director J. Edgar Hoover worked to destroy King's credibility to help damage the civil rights movement.
Things are only slightly better for Latinos at the bureau. Their percentage of agents has increased, but only slightly, from 6.9% in 1997 to 7.1% in 2012, which is a smaller increase than what the entire Hispanic population in the U.S. has experienced, Gerstein wrote.
-Noel Brinkerhoff, Steve Straehley
To Learn More:
Amid Race Talk, FBI Struggles To Hire Black Agents (by Josh Gerstein, Politico)
Diversity Statistics (Federal Bureau of Investigation)
FBI Director James Comey's Unprecedented Speech on Race (by Jena McGregor, Washington Post)
James Comey's Speech (Federal Bureau of Investigation)