Family Burned by Explosion of Well Contaminated by Fracking
Thursday, August 13, 2015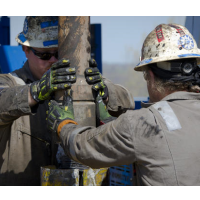 Fracking operation (photo: Mladen Antonov, AFP/Getty Images)
A Texas family is suing several companies involved in fracking after their water well exploded, injuring all four of them.
In August 2014, Cody Murray and his father, Jim, went to inspect the family's pump house after seeing pressurized water spraying from it. Upon entering the building and turning on a switch, a fireball erupted from inside the well. Cody sustained serious burns on his arms, upper back, neck, forehead and nose after pulling his father away from the explosion, which caused serious injuries to Jim, Cody's wife and his 4-year-old daughter.
Cody says he is unable to work and may never be able to do so again.
Their attorneys say the explosion was caused by methane gas that leaked into the well from nearby fracking operations run by the defendants, EOG Resources, Fairway Resources LLC and three Fairway subsidiaries. Fairway Resources GP, LLC is a wholly owned subsidiary of Goldman Sachs, according to Courthouse News Service.
"This is a tragic case arising from the flash explosion of a private water well that had been contaminated with methane as a result of the defendants' drilling and extraction activities," the complaint states.
The Murrays, who live in Perrin, 35 miles west of Fort Worth, are seeking actual and punitive damages for negligence, trespass, nuisance, lost wages, physical impairment, pain and suffering, continuing medical care, disfigurement and loss of consortium.
"Rigorous scientific testing, including isotope testing, has conclusively demonstrated that the high-level methane contamination of the Murrays' water well resulted from natural gas drilling and extraction activities," the complaint states. "The high levels of methane in the Murrays' well were not 'naturally occurring.'"
-Noel Brinkerhoff
To Learn More:
Fracked Water Explodes, Burning Family (by David Lee, Courthouse News Service)
Flash Fire Injures Four Saturday (by Mark Engebretson, Lake Country Sun)
Texas Family Wins First Jury Award for Health Damages from Fracking (by Noel Brinkerhoff, AllGov)
Chevron Offered Free Pizza to Help Make Up for its Fracking Well Explosion in Pennsylvania Town (by Noel Brinkerhoff, AllGov)