European Regulator Investigating Controversial Clinical Trial Overseen by FDA Chief Nominee
Thursday, December 03, 2015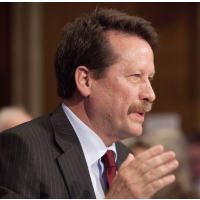 Robert Califf testifying before Senate committee at FDA nomination hearing, Nov. 2015 (photo: Pablo Martinez, AP)
Robert Califf, President Barack Obama's nominee to head the Food and Drug Administration (FDA), is at the center of a European investigation into a blood thinner he helped get approved several years ago.
Before being nominated to run the FDA, Califf helped design and oversee a clinical trial for Xarelto, which thins blood in heart patients. The FDA approved Xarelto in 2011 to prevent blood clots and strokes for individuals suffering from atrial fibrillation. Now, Europe's equivalent of the FDA, the European Medicines Agency (EMA), is investigating the soundness of that clinical trial.
The clinical trial relied on blood testing devices that were the subject of two FDA warning letters before the trial began and an FDA recall notice after the trial ended, according to the Project on Government Oversight (POGO). Certain devices in the INRatio product line, the warning notice read, could deliver false test results and that use of those devices may "cause severe or life-threatening injuries, including death."
The EMA has said it "is currently investigating whether the data generated from the INRatio device could have had any impact on the trial results and the extent of this impact, if applicable."
An FDA staff review of the trial showed that it was biased in favor of approving Xarelto, POGO reported last month. Patients using Xarelto were said to be "at greater risk of harm from stroke and/or bleeding" than if they were treated with warfarin, a blood thinner that has been on the market since the 1950s.
Before moving to the FDA, Califf was in charge of Duke University's Clinical Research Institute, which ran the Xarelto trial. Califf's fitness to lead the FDA and his impartiality have been called into question because he took money from drug makers who had products being evaluated at Duke. Califf says he gave that money to charity.
-Noel Brinkerhoff, Steve Straehley
To Learn More:
European Regulator Investigating Trial Led by FDA Nominee (by David S. Hilzenrath, Project On Government Oversight)
Nominee to Head FDA Led Clinical Trial FDA Faulted (by David S. Hilzenrath, Project On Government Oversight)
New Questions Raised About ROCKET AF, Pivotal Xarelto Trial Chaired By Califf (by Larry Husten, CardioBrief)
Duke Reassessing Data from Trial Led By FDA Nominee (by David S. Hilzenrath and Charles R. Babcock, Project on Government Oversight)
Commissioner of the Food and Drug Administration: Who Is Robert Califf? (by Steve Straehley, AllGov)
Obama's Nominee for FDA Chief Scrutinized for Ties to Big Pharma (by Noel Brinkerhoff, AllGov)
A Third of All U.S. Clinical Drug Trial Results Remain Unpublished after 5 Years (by Noel Brinkerhoff, AllGov)