Commissioner of the Food and Drug Administration: Who Is Robert Califf?
Sunday, November 29, 2015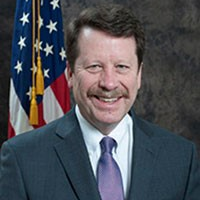 Robert Califf
Robert Califf, MD, who is currently deputy commissioner of the Food and Drug Administration (FDA), was nominated by President Barack Obama on Sept. 15, 2015, to be the FDA's commissioner.
Califf was born in 1951 in Anderson, South Carolina, and grew up in Columbia, South Carolina. Califf was one of four children whose father was an architect. He attended A.C. Flora High School in Columbia and played on its 1969 state title basketball team. It was also there that he met the woman who would become his wife, Lydia.
After graduation, Califf went to Duke University, in Durham, North Carolina, where he earned his bachelor's degree in 1973 and medical degree in 1978. He did his residency in internal medicine and cardiology at the University of California San Francisco, but returned in 1982 to serve on the faculty of Duke, where he remained for more than 30 years.
At Duke, Califf became a world-renowned researcher, eventually churning out more than 1,200 papers during his time there. He was also a go-to source for journalists writing about new drugs or other topics relating to cardiac issues.
He was founding director of the Duke Clinical Research Institute and organization director of the Duke Translational Medicine Institute, which he founded in 2006, and professor of medicine in the Division of Cardiology at the Duke University Medical Center.
But as is common in health research, Califf worked closely with drug companies in his lines of investigation. More than half the funding for his research came from such firms as Merck, Novartis, and Eli Lilly. In his last full year at Duke, 2014, Califf listed six drug companies on his financial disclosure form from which he either got a part of his salary, drew a salary for consulting or in which he owned an equity stake. "In a sense, he's the ultimate industry insider," Daniel Carpenter, a Harvard political science professor who has written extensively about the FDA, told The New York Times. Califf raked in about $32,000 in consulting fees in 2014, according to the federal database Open Payments, putting him in the upper half of those doctors receiving payments. According to the Times, Califf has been donating his consulting fees to nonprofits since the mid-2000s.
But in 2014, Califf made news when he told a meeting of biomedical researchers, lawyers, and industry experts that regulation was a hurdle to be overcome.
Califf's industry connections may have been what stood in the way of him being named commissioner earlier. He was considered for the job by President George W. Bush in 2001 and was considered a frontrunner for the post when Obama came into office in 2009. It was said at the time that he was passed over in 2009 because of his perceived closeness with the drug industry.
Those issues rose again in Califf's confirmation hearing on Nov. 17, 2015, before the Senate Committee on Health, Education, Labor and Pensions. Califf drew opposition from Senators Elizabeth Warren (D-Massachusetts) and Bernie Sanders (I-Vermont) on his ties to the drug industry. "At a time when millions of Americans cannot afford to purchase the prescription drugs they need, we need a new leader at the FDA who is prepared to stand up to the pharmaceutical companies and work to substantially lower drug prices," Sanders said, according to the Times. "Unfortunately, I have come to the conclusion that Dr. Califf is not that person."
The advocacy group Public Citizen has also urged that his nomination be voted down. "Califf's appointment as FDA commissioner would accelerate a decades-long trend in which agency leadership too often makes decisions that are aligned more with the interests of industry, rather than those of public health and patients," Michael Carome, MD, director of Public Citizen's Health Research Group, said in a statement.
Nevertheless, most members of the Senate committee indicated that they would support Califf's nomination when it came up for a vote.
Among the early issues facing Califf if he's confirmed is the regulation of e-cigarettes and the challenge of getting drugs to market sooner. At the time of his appointment as deputy commissioner, Califf said he was in favor of streamlining the drug approval process.
Califf is a golfer and a huge fan of Duke basketball. He and Lydia have three children: Sharon, Sam, and Tom.
-Steve Straehley
To Learn More:
FDA Nominee Califf's Ties to Drug Makers Worry Some (by Sabrina Tavernise, New York Times)