EPA Accused of Withholding Documents in Lawsuit Alleging Breach of Pesticide Regulation
Sunday, November 06, 2016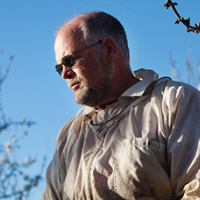 Jeff Anderson (photo: Chris Jordan-Bloch, Earthjustice)
By Nicholas Iovino, Courthouse News Service
SAN FRANCISCO (CN) — Beekeepers and environmentalists on Thursday accused the U.S. Environmental Protection Agency of withholding documents they say will prove the agency has a "pattern and practice" of shirking its duty to regulate bee-killing pesticides.
Lead plaintiff Jeff Anderson, a beekeeper who owns honey farms in California and Minnesota, sued the EPA this past January, claiming a guidance document the agency issued in 2013 illegally widened exemptions for pesticide-coated seeds and their resulting dust-off.
Anderson says a particularly toxic strain of pesticides known as neonicotinoids has killed hundreds of thousands of bees in recent years, poisoned birds and contaminated large swaths of soil and water. He says the EPA has failed to regulate neonicotinoids in the form of coated seeds and seed dust-off, even though it is required to under the Federal Insecticide, Fungicide and Rodenticide Act (FIFRA) (pdf).
During a summary judgment hearing Thursday, plaintiffs' attorney Adam Keats said the EPA only turned over 200 pages of internal emails and documents, many of which were "riddled with redactions," and withheld an additional 5,000 pages of germane material.
"The administrative record is woefully incomplete," Keats said. "It left us in the dark on many issues we feel would be relevant to the case."
After the plaintiffs moved to compel the EPA to produce more documents in September, U.S. District Judge William Alsup ordered the agency to turn over 5,000 pages of court-sealed files for him to review behind closed doors.
In their cross-motion for summary judgment, the plaintiffs urged the judge to keep two questions in mind as he sifts through the 5,000-plus pages of internal EPA files.
The plaintiffs asked Alsup to assess whether those documents address a link between neonicotinoid-coated seeds and harms to bees or if the EPA took a position on whether neonicotinoid-coated seeds and their dust-off are exempt under FIFRA.
Alsup suggested Thursday that the government could be withholding relevant documents, based on his prior experience as a Justice Department attorney in the 1970s. During his time there, Alsup said he routinely witnessed government lawyers try to exclude pertinent files from disclosure in lawsuits.
"I was jaded by that experience," Alsup said.
Addressing the merits of the parties' motions for summary judgment, U.S. government attorney Rochelle Russell argued the guidance document issued in May 2013 merely conveyed recommended guidelines for investigating bee deaths and did not equate to a final agency action reviewable by the court under the Administrative Procedure Act.
The document, titled "Guidance for Inspecting Alleged Cases of Pesticide-Related Bee Incidents" (pdf), states in part that "treated seed (and any resulting dust-off from treated seed)" may be exempt from registration under FIFRA.
On claims the EPA adopted a "wholesale" policy of not regulating pesticide-coated seeds and dust-off as required under FIFRA, Russell said "decisions to enforce or not enforce" are left up to the discretion of federal agencies and are not subject to judicial review under the 1985 Supreme Court ruling Heckler v. Chaney.
However, Keats cited an exception to the Heckler presumption of non-reviewability as articulated by the Ninth Circuit in its May 2016 ruling Garcia v. McCarthy. That ruling held courts may review an agency's action or inaction if the agency "consciously and expressly adopted a general policy that is so extreme as to amount to an abdication of its statutory responsibilities."
Briefly addressing another motion for summary judgment filed by intervening farming industry groups, attorney Karen Carr argued all pesticides approved for use in American agriculture are already subject to a "rigorous regulatory process."
"They want EPA to regulate the seeds as well," Carr declared. "Granting the relief plaintiffs seek would have a crushing effect on American agriculture."
Keats replied that the unregulated spread of "incredibly toxic and incredibly deadly" pesticide-coated seeds has already cost beekeepers billions of dollars in financial damage.
Keats works for the Center for Food Safety, one of Anderson's co-plaintiffs in the lawsuit, in Sacramento.
Carr is with Arent Fox in Washington D.C., representing a cadre of pesticide and farming industry groups including CropLife America, Agricultural Retailers Association and American Soybean Association.
Before the hearing started, Alsup said he was leaning toward granting the EPA's motion for summary judgment, but the judge also suggested the plaintiffs might benefit from additional discovery materials he is still reviewing behind closed doors.
To Learn More:
Judge Won't Order EPA to List Possible Hazardous "Inert" Ingredients on Pesticide Labels (By Nicholas Iovino, Courthouse News Service)
Federal Court Revokes EPA's Approval of Insecticide Linked to Collapse of Bee Populations (by Ken Broder and Noel Brinkerhoff, AllGov)
After 8 Years of Delay, EPA Finally Agrees to Test Dangers of Monsanto's Favorite Pesticide (by Steve Straehley, AllGov)