Dismissive Treatment of Black Female Doctor on Delta Flight Rings True for Minority Professionals
Saturday, October 15, 2016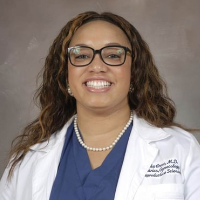 Dr. Tamika Cross
By Christine Hauser, New York Times
Dr. Tamika Cross, a black physician at the Lyndon B. Johnson Hospital in Houston, could not immediately come to the phone Friday. She was busy delivering a baby boy by C-section.
So, yes, in case anyone has any doubt, Cross is an "actual physician."
But the 28-year-old doctor said that was the question hanging in the air, raised by a flight attendant, when she volunteered to treat a sick passenger on a Delta flight from Detroit to Minneapolis on Sunday.
Cross wrote about the episode in a Facebook post later that day, saying she had put her hand up to help, but was met with the kind of skepticism she had encountered before as a black doctor. A flight attendant demanded her "credentials" and confirmation that she was a real physician.
"She said to me: 'Oh no, sweetie put ur hand down; we are looking for actual physicians or nurses or some type of medical personnel. We don't have time to talk to you.'"
Cross wrote, "I'm sure many of my fellow young, corporate America working women of color can all understand my frustration when I say I'm sick of being disrespected."
By Friday, Cross' story had been shared more than 38,000 times and had attracted more than 14,000 comments, transforming her Facebook page into a forum where minority professionals reflected on the difficulties they face from people who doubt their qualifications or abilities.
It was also shared widely on Twitter under the hashtags #TamikaCross and #WhatDoctorsLookLike to highlight offensive assumptions about diversity in the medical field.
"Tamika, I know exactly how you feel, when people don't want your help, because of the color of your skin," Iniece Crawford wrote on Facebook. "I go through this on a regular basis and I'm just a pharmacy associate. They assume that I don't know what I'm doing or don't want to deal with me at all, but have to."
On Friday, Delta Air Lines said in a statement on its website that it was investigating what happened and had reached out to Cross. The statement said: "Three medical professionals identified themselves on the flight in question. Only one was able to produce documentation of medical training."
The statement continued, "The experience Cross has described is not reflective of Delta's culture or of the values our employees live out every day."
Reached by telephone between surgeries Friday, Cross said that it was not the first time she had encountered assumptions that as a black woman, she could not be a doctor, and that she has heard similar stories from colleagues.
"I think minorities in general, especially in my field of practice — I feel that they are always questioned and always assumed to be the nurse or the nurse's aide or here as part of the janitorial team or ancillary staff, she said. "Several times I come in the room, I am assumed to be one of the ancillary staff."
Some of the conversations spurred by Cross' Facebook post centered on what researchers call implicit bias, or unconscious processing about race. According to the Kirwan Institute for the Study of Race and Ethnicity, implicit bias can affect the decisions jurors make in courts, the assumptions by law enforcement officials about minorities and the relationships between students and teachers, and doctors and patients.
In its 2016 report (pdf), the institute highlighted how people with a "black-sounding name" had a lower response rate when trying to get help for public services.
Cross said in her post that she had been to Detroit for a wedding and that Delta Air Lines Flight 945 was midair when a male passenger two rows in front of her became unresponsive; his wife started screaming for help.
"I naturally jumped into doctor mode as no one else was getting up," she wrote. At first, the flight attendant told everyone to stay in their places, but then called out for a doctor.
"I raised my hand to grab her attention," Cross wrote, referring to the flight attendant. "She said, 'Oh wow, you're an actual physician?' I reply yes. She said: 'Let me see your credentials. What type of doctor are you? Where do you work? Why were you in Detroit?'"
Cross said she told the woman she is an obstetrician-gynecologist in Houston, but did not show any credentials. Then a white male passenger approached the flight attendant and said he was a physician. According to Cross, the flight attendant turned to her and said, "Thanks for your help, but he can help us, and he has his credentials."
On Facebook, Cross wrote: "Mind you, he hasn't shown anything to her. Just showed up and fit the 'description of a doctor.'"
After returning a phone call seeking comment Friday, a Delta spokeswoman referred any further inquiries back to the company's statement. It says about the flight crew: "When an individual's medical identification isn't available, they're instructed to ask questions such as where medical training was received or whether an individual has a business card or other documentation, and ultimately to use their best judgment."
Cross said in the phone interview that she had written her Facebook post during the layover before traveling to Houston. She then filed an official complaint with the airline Tuesday and received a general reply that the airline was investigating and did not discriminate.
An airline representative also left her a voice-mail message to speak with her, Cross said, but she had been unable to return the call because of her operation-room and medical schedule.
To Learn More:
Racial Bias Seen in Proliferation of Republican-Led Voting Restrictions across U.S. (by Michael Wines, New York Times)
Some Blacks See Racial Bias in Republicans' Denial of Obama Right to Nominate Scalia Successor (by Maggie Haberman and Jonathan Martin, New York Times)
As Government Jobs Disappear, It's Women and African-American Men who are Hit the Hardest (by Noel Brinkerhoff, AllGov)