Did Navy Admirals Break the Law while Lobbying for Submarine Funding?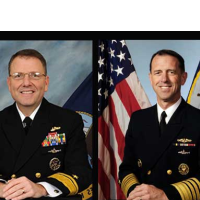 Rear Admiral Joe Tofalo and Admiral John Richardson (photos: U.S. Navy)
An independent government watchdog has accused two high-ranking officials in the U.S. Navy of illegally lobbying lawmakers to support the building of new submarines.
The Project on Government Oversight (POGO) says Admiral John M. Richardson and Rear Admiral Joe Tofalo may have violated the Anti-Lobbying Act (pdf), which limits indirect lobbying of Congress by federal employees.
Richardson, nominated to become the next Naval Chief of Operations, and Tofalo, nominated to become vice admiral and commander of Naval Submarine Forces Atlantic, have told associates to pressure lawmakers into paying $90 billion for replacements for new Ohio class submarines, according to POGO's Mandy Smithberger. Richardson urged attendees of the 2014 Annual Symposium Naval Submarine League to contact their congressional representatives to support the Ohio class replacement sub program and the Sea-Based Deterrence Fund.
Creating a separate, off-budget fund to finance Navy projects has been rejected in the past and, in the form of the Sea-Based Deterrence Fund, was turned down again this year by the House Appropriations Committee, reported POGO.
"Allowing the Navy to fund this program separately reduces discipline in the program and increases the likelihood of gross cost overruns," wrote Smithberger. "Moreover, it creates a bad precedent that any unaffordable weapons program should receive its own separate budget, a budgeting trick that would likely be repeated to fund the Air Force's bomber program… Every weapons program is [a] national asset, but just as the bomber should be paid for out of the Air Force's budget, this program should be paid for out of the Navy's budget."
Tofalo echoed Richardson's entreaty and promised that his office would support the lobbying effort, according to Smithberger.
Tofalo was quoted in several publications as having told NSL Symposium attendees: "Admiral Richardson talked about commander's guidance and getting the message out. He challenged all of you to go out and interact with folks, whether it's calling on your own Congressmen, or if you belong to some organization from the Chamber of Commerce to the Rotary Club. I am committed to help you do that. If anybody needs help in strategic messaging, then you call '1-800-N97' and let us know."
"Commander Martin Sprague, would you stand up?" Tofalo continued, according to the accounts. "Go slip him your business card on a break, and if you need trifolds, priorities briefs, talking points for your Congressman, we are more than happy to support you."
The Navy is reviewing the two officials' statements to determine whether either of them violated the anti-lobbying law. POGO is calling for an independent review by the Government Accountability Office.
- Danny Biederman, Noel Brinkerhoff
To Learn More:
Navy Officials May Have Illegally Lobbied on Sub Fund (by Mandy Smithberger, Project on Government Oversight)
Why is the Navy Allowed a Special Extra Fund Beyond its Budget to Build Submarines? (by Noel Brinkerhoff, AllGov)