Denver Police Who Misuse Official Databases Punished with Slap on Wrist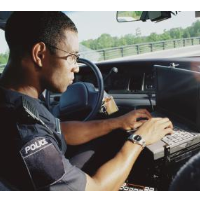 (photo: Thinkstock/Stockbyte/Getty Images)
By Christine Hauser, New York Times
When a Colorado man thought his wife might be having an affair, he asked a Denver police officer to dig up personal details about the suspected paramour. The husband then drove by the other man's house and threatened him, according to a civilian oversight agency's report.
Another Denver police officer used official databases to get the private telephone number of a hospital employee he had casually chatted with while investigating a sexual assault. He then left the woman a voice mail message that upset her.
When caught, the officers were given written reprimands, and one was fined.
These 2015 cases were highlighted in the annual report released Tuesday by the Denver Office of the Independent Monitor, a civilian oversight agency, that said the city's Police Department must impose harsher punishments to deter officers from mining law enforcement databases for their personal use.
There have been 25 cases of database misuse in the Police Department in the past 10 years, including three in 2015, the report said.
The law enforcement databases cited in the report include the National Crime Information Center, which is used nationwide for investigative purposes and contains personal data, along with records of arrests, sex offenses, alleged gang affiliations and other information.
"These databases contain vast amounts of personal information about the American public, including community members in Denver," Nicholas E. Mitchell, the agency's independent monitor, said in the report. "When they are misused, reprimands are not commensurate with the seriousness of that violation, and may not be strong enough to deter future abuse."
Generally, the report said, the misuse of law enforcement databases was not widespread in the Denver Police Department, which has about 1,440 sworn officers.
But it criticized the low-level punishments meted out in comparison with some penalties by other departments. In the Phoenix Police Department, the report noted, officers are suspended without pay. Others terminate offenders, it said.
Sixteen officers were given verbal or written reprimands by the Denver department. Eight had some pay docked, and one was suspended for three days. At least five received the more severe punishment because they had previous disciplinary records, the report said.
Daelene Mix, a spokeswoman for the city's Department of Public Safety, which makes the final decisions on discipline for sworn officers, said that for misuse of databases, policy dictates penalties that range from reprimand to termination.
"There is a whole spectrum of potential penalties that can be imposed," she said in a telephone interview.
But mitigating factors include an officer's willingness to accept responsibility and acknowledge wrongdoing, she said, and whether the information, such as a telephone number, could have been obtained through public sources.
Information from the criminal justice databases is covered by the Federal Privacy Act of 1974, which allows for possible criminal penalties for violations, the report said.
The misuse of the information has raised questions on privacy abuse in cases across the country, and in some instances has raised the risk of physical harm to residents.
In New York City last month, a former police sergeant pleaded guilty to conspiracy after admitting that he had accepted money to tap into restricted databases to furnish information to a former officer who was working as an investigator for criminal defense lawyers.
In another high-profile New York City case, a former police officer was convicted in 2013 of using a law enforcement database to look up information for a plot to kidnap, torture, kill and eat women. The conviction was later overturned.
In Hartford, Connecticut, an officer gave information from a database to a friend that was used to harass her ex-boyfriend's pregnant girlfriend in 2008, The Hartford Courant reported.
It is hard to ascertain how much of the misuse of the database is occurring nationwide because not all the cases become high profile, Mitchell said in a telephone interview Wednesday.
But the Denver report highlighted three cases, including one that opened the possibility for criminal behavior.
It said that in Colorado Springs in September 2015, an officer ran a license plate number for an acquaintance who suspected that his wife, whom he was divorcing, was having an affair. The officer's acquaintance then began driving by the house of the man suspected of being the paramour, threatening him and questioning his wife for details about the man's habits and work schedule, the report said.
The officer received a written reprimand.
In May, an officer searched for the number of a female worker whom he had chatted with at a hospital after investigating a sexual assault. He later left her a voice mail message that made her upset, the report said. He was given a written reprimand for the database misuse and fined two days' pay for the voice mail.
In another case last year, a tow truck operator who worked with police officers asked one for license plate information that she intended to use in a custody case. The officer complied, but later told investigators he thought the information was meant for official business, according to the report. He was not punished, although the Office of the Independent Monitor recommended it.
"With unprecedented amounts of personal information now available electronically, police departments must not only have clear policies that regulate access to that information, but must also discipline officers who misuse it," Mitchell said.
To Learn More:
FBI Reports Drop in Crime in Denver…Because Crime Statistics Were Left Out (by Noel Brinkerhoff and Danny Biederman, AllGov)