Deadly Form of Black Lung Rises to 40-Year High
Wednesday, September 17, 2014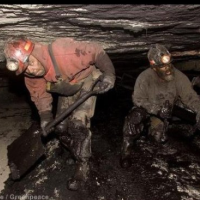 Coal miners in West Virginia, (photo: Les Stone, Greenpeace)
Health progress for coal miners has taken a big step backwards with news that a fatal type of black lung disease is on the rise again throughout Appalachia.
Researchers say cases of advanced black lung (progressive massive fibrosis) have soared in number, reaching levels not seen since the early 1970s. The deadly version of the disease had all but disappeared by the dawn of the new millennium.
Researchers David Blackley, Cara Halldin and A. Scott Laney wrote in the American Journal of Respiratory and Critical Care Medicine that the increase "can only be the result of overexposures and/or increased toxicity stemming from changes in dust composition" in mines located in Kentucky, Virginia and West Virginia.
The findings may embolden labor advocates to push for more regulations of the coal mining industry by the federal Mine Safety and Health Administration (MSHA).
Earlier this year, the agency unveiled new rules intended to reduce coal-dust levels in mines. These include expansion of dust sampling, a requirement that miners wear "real-time" dust monitors, increased miner health surveillance, improved violation enforcement and, for the first time in 45 years, a reduction in limits for coal mine dust.
Critics said MSHA could have gone further than the 25% cut that was announced, and called for a 50% reduction in dust levels where miners operate. The 25% cut won't go into effect until August 2016.
"A decade ago it would have been unimaginable that we would see rates of severe black lung back up to 1960s levels," Wes Addington, deputy director at the Appalachian Citizens' Law Center, told The Louisville Courier-Journal. "We have broken our promise to protect our miners."
-Noel Brinkerhoff, Danny Biederman
To Learn More:
Severe Black Lung Returns to 1970s Levels (by James R. Carroll, Louisville Courier-Journal)
Study Says Advanced Form of Black Lung at Historically High Levels (by Dave Boucher, Charleston Daily Mail)
Study: Deadliest Form of Black Lung Disease Is at 40-Year High in Eastern Kentucky, Nearby Areas (by Bill Estep, Lexington Herald-Leader)
New Black Lung Research (Scribd.)
Labor Dept. Warns against Doctor who Rejected more than 3,400 X-Ray Readings for Black Lung and Approved None (by Noel Brinkerhoff and Steve Straehley, AllGov)
Mostly Forgotten, Black Lung Still Causes Two Deaths a Day (by Noel Brinkerhoff and Danny Biederman, AllGov)