Mostly Forgotten, Black Lung Still Causes Two Deaths a Day
Friday, November 29, 2013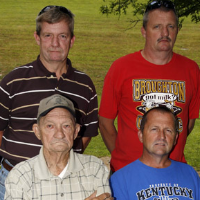 4 members of Kentucky family all have black lung (photo: Center for Public Integrity
Pneumoconiosis, better known as black lung, continues to plague coal miners today, just as it has for generations of workers.
By the end of the 20th century, black lung was in decline among miners, after years of federal regulatory efforts to improve working conditions in coal mines. This development led some observers to assume the disease was on its way out as an occupational threat. But over the past decade or so, cases of black lung have increased once again.
More than 7,400 people have died from pneumoconiosis this century, or about two a day.
At least one government epidemiologist described the recent increase in black lung diagnoses as "an epidemic," according to Chris Hamby at The Center for Public Integrity.
"Amid my reporting, I encountered pervasive misconceptions about the disease. The first is that black lung is an old man's illness, a relic of a past era of mining. The second: With coal on the decline, black lung is slowly fading into obscurity," Hamby wrote.
He added that advances in coal mining technology have both increased productivity and—since the late 1990s— and clouds of "disease-causing dust" in mines, making them no more safe for workers when it comes to black lung than they were for their fathers and grandfathers.
The number of federal black lung benefit claims has been increasing in recent years, according to Hamby, but miners' success rate at winning benefits is low—about 14% as of last year.
A recent example of a court ruling against a black lung case was the ordeal of Randy Torris, who claimed he suffered from the disease while working as a furnace operator for Alcan Rolled Products-Ravenswood (now Constellium) in Ravenswood, West Virginia. This month, after several appeals, the West Virginia State Supreme Court ruled against Torris's worker's compensation claim because his employer was able to prove that it had been in compliance with OSHA and/or MSHA regulations and the legally permissible levels of exposure to the coal dust.
-Noel Brinkerhoff, Danny Biederman
To Learn More:
'Breathless and Burdened' Will Examine Coal Industry's Efforts to Defeat Black Lung Benefits Claims (by Chris Hamby, Center for Public Integrity)
Black Lung Injury Not Compensable Because Company Was OSHA-Compliant (by T.K. Kim, West Virginia Record), Pneumoconiosis